There are lots of Seattle coupons and discounts available these days to help you keep the cost down while enjoying fun things to do. You can save lots of money if you know where to look. You can save even more if you sign up (for free) on a few of the daily deals websites and keep an eye out for deals that interest you.
I regularly see coupons for all kinds of things such as restaurants, sports events, theatre shows, museums, cruises, boat tours, winery tours, comedy shows, and lots more.
---
Goldstar Events
Goldstar
is one of the best deals around. They offer half-price tickets to some of the best of Seattle events and entertainment including live theatre, concerts, comedy shows, sports, harbor and lake cruises, and lots more. I love going to the theatre and if I can pay a lot less than full price for my ticket, I'm thrilled!
Most of the events being offered change frequently so it's worth checking with them regularly to see what's available. You can subscribe to their weekly email which helps you keep an eye out for great deals on upcoming events.
It's also worth it to check their website every few days if you are looking for tickets to something that's really popular, such as Pacific Northwest Ballet's Nutcracker. Many times there will be half-price tickets available to a performance on a specific day. You have to act fast because they sell out quickly.
There are also some things that tend to show up fairly often, like the Argosy dinner cruise or the Ballard Locks cruise, the Tillicum Village Salmon Bake, and the Urban Wine Tour to name a few. So if any of these are on your list of things to do in Seattle, you should check with Goldstar first before paying full price.
To see their list of tickets and prices, sign up for free with a user name and password. Goldstar Events also offers tickets to events in other cities as well, so be sure to check for your city.
---
Seattle City Pass Card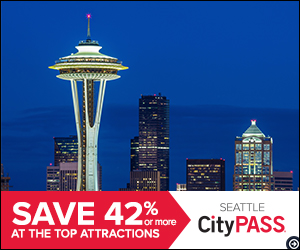 Seattle CityPASS is a ticket book that gives you one-time admission to 5 of Seattle's top must-see attractions at a 48% discount. It's good for 9 days beginning with the first day of use.
Prices for 2015:
Adult $64 ($123.75 value)
Child 4-12yrs $44 ($81.35 value)
What's included:
Space Needle - 2 visits in 24 hours so you can get the daylight view and the city lights view at night
Seattle Aquarium admission
Argosy Cruises Harbor Tour - one hour tour of Elliott Bay and Seattle Harbor
Experience Music Project Museum or Woodland Park Zoo admission
Your choice of either Pacific Science Center admission or Museum of Flight admission
If you plan to do at least four of these you'll save money with the Seattle CityPASS. And if you do all 5, you'll save big money.
You can have the booklet shipped to you or choose the convenient e-ticket option. Each booklet include tickets, detailed attraction information, hours, location, insider tips and a map.
---
Living Social
Living Social offers daily deals on all kinds of things from bottles of wine from local wineries to movie tickets to whale watching tours. The deals will save you 50% - 90% off of the regular price, and they last for several days. So you can see the deal of the day as well as a long list of other offers that are still available.
They also offer Escapes, which could be anything from a weekend getaway at a local B&B, to a 6 night stay in a faraway location you've always dreamed of going to, and Adventures like kayaking, skiing, shooting, or sushi making.
If you get 3 of your friends to buy the same deal, you get yours for free!
---
Groupon
Groupon
also offers daily deals from local businesses. You can get half off or more at great Seattle restaurants, museums, spas, entertainment, harbor cruises, winery tours, hotel stays, and even Nordstrom Rack! That one sold out fast!
Sign up for a daily email (free) for that day's special deal in your city. If you buy it, Groupon sends you via email a coupon that's usually good for up to one year.
Groupon may be available in your city too. Click here
to find out.
---
Restaurant.com
Restaurant.com
offers great deals on more than 15,000 restaurants nationwide. You can save up to 60%on your meal.
You buy gift certificates for various amounts such as a $10 certificate for $5, or a $75 one for $30. The savings are very good, and you can check for deals in your town as well. If you want to see restaurants in Seattle, just click on the link and enter 98101 for the zip code.
---
Be sure to check back now and then for more Seattle coupons and deals as they become available.