Pacific Science Center Seattle


Making science fun!

The Pacific Science Center sits at the base of the Space Needle next to the Seattle Center. It was the United States Science Pavilion for the 1962 World's Fair.
Today it is a place whose goal is to make science fun and accessible to kids, and to provide science education to schools and teachers in Washington.
The Center's permanent exhibits appeal mainly to grade school, preschool, and toddler age children. Most of these exhibits are designed to be hands-on and interactive.
When my children were much younger, they loved to hang out at the Pacific Science Center and play. With all the knobs, wheels, waterworks, machines, and stuff to climb in and on, it's like a big indoor playground. Local moms with restless kids on rainy days - consider a season pass!
Some of the permanent exhibits:
Dinosaurs: A Journey Through Time
Not quite life-size, but big with moving parts! Some younger kids may be a little intimidated at first so beware. There's a wire-frame that demonstrates the inner workings of the dinosaurs. Kids can push buttons that make the eyes move or the mouth open and close. Seeing how they work seems to lessen their fears!
Tropical Butterfly House

My favorite place to hang out at the Science Center! I love to walk among the free-flying butterflies and watch them feed on the tropical plants and plates of fruit. The butterflies frequently will land on your arm or your head! There is a chrysalis viewing window where you can see the different stages and watch a new butterfly emerge. Oh, and the best part? The temperature is always in the low 80's with 70 percent humidity - very nice when it's cold and rainy outside!
Insect Village
Giant robotic bugs and lots of live bugs on display, including the biggest cockroaches you've ever seen! When my kids were younger, we happened to be at the Seattle Science Center when one of the staff had some of the cockroaches crawling on his arms and hands. He offered to let us touch them but that was a bit too much for me! There is also a big beehive with live bees that is interesting to observe.
Salt Water Tide Pool

This is a small tide pool exhibit where you can touch the animals in the water. The Seattle Aquarium has one that's much larger that is worth seeing as well.
Animal Exhibits
The Pacific Science Center has a few reptiles and amphibians on display and a colony of East African naked mole-rats whose lives are dedicated to chewing through everything including concrete. No kidding!!
Body Works
This is a fun, interactive set of exhibits all about the human body and how it works. Test your reaction time, see how much energy you produce on a bicycle, learn how the brain and eye works. Learn about DNA and nutrition. These are interesting for adults, too.
Technology Exhibit

Play tic-tac-toe with a huge robotic machine. This is a favorite for most people, so you may have to wait your turn. Watching is fun too, though.
More to see and do at the Science Center:
Planetarium
IMAX theater
Water Works outdoor exhibit
Flight simulator
Cafe
Summer camps
Lectures and demonstrations
Store - lots of great science stuff like books, models, posters, etc.
Like most museums, the Pacific Science Center hosts traveling exhibits and also creates exhibits that travel elsewhere. Recent exhibits included the Dead Sea Scrolls and Lucy (fossilized bones of a prehistoric human).
Seattle's Science Center is a wonderful resource for teachers. From their website you can download pre-visit sheets to use in the classroom before you take your students there for a field trip. They host free educator nights when teachers can come and view the special exhibits. The last one I attended included refreshments, a glass of wine, and lots of great info about the exhibit!
---
Get a discount pass to the Science Center and other attractions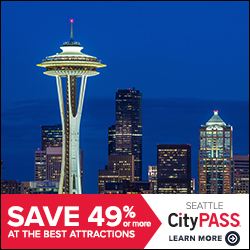 Space Needle
Pacific Science Center
Seattle Aquarium
Experience Music Project
Argosy Cruises Harbor Tour
Woodland Park Zoo OR The Museum of Flight
I recommend the Seattle CityPASS - it will save you 45% off these 6 attractions, plus you can skip the lines. You'll save money if you go to at least four.
---
For more information about Pacific Science Center exhibitions, member news, programs, events, and store:

Pacific Science Center
Seattle Center
200 Second Avenue North
206-443-2001
www.pacsci.org