Seattle Christmas

Holiday Events and Activities 2014
On our Seattle Christmas and Holiday events calendar we include activities related to Thanksgiving, Christmas, and New Year's Eve.
You'll find holiday lights, caroling, gingerbread houses, ice skating, and lots more.
Many are Northwest traditions such as Macy's Holiday Parade and PNB's Nutcracker ballet.
There's also Dicken's A Christmas Carol at the ACT Theatre, the Holiday Carousel at Westlake Center, the Christmas Ships, and Handel's Messiah at Benaroya Hall.
It wouldn't be a Seattle Christmas without them!

Holiday Sweets at Pike Place Market
---
Half Price Tickets to Holiday Events
Goldstar offers half-price tickets to all kinds of holiday events including live theater, concerts, comedy, tours, Argosy cruises, and more.
Nutcracker - Pacific Northwest Ballet
A Child's Christmas in Wales
The Long Christmas Dinner
Leavenworth Christmas Lighting Festival
Holiday Parade of Lights Festive Dining Cruise
Argosy Cruises Holiday Dinner Cruise
A Christmas Carol
lots more...
---
Give an Experience this Christmas!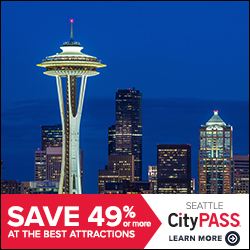 Space Needle
Pacific Science Center
Seattle Aquarium
Experience Music Project
Argosy Cruises Harbor Tour
Woodland Park Zoo OR The Museum of Flight
I recommend the Seattle CityPASS - it will save you 45% off these 6 attractions, plus you can skip the lines. You'll save money if you go to at least four.
---
Enchanted Holidays at The Bravern
Photo Credit - The Bellevue Collection
Nov. 19 - Dec. 24, Wednesdays through Sundays
Photos with Santa - 12-6pm
Dec. 5, 12 and 19, Wednesdays
Little Bookworms Story Time - 11am - 12pm

---
Festival of Trees
November 22 - December 2
Fairmont Olympic Hotel, 411 University St.
A display of beautifully decorated Christmas trees, each with its own theme and style, and each dedicated to a patient at Seattle Children's Hospital.
---
A Christmas Story - the Musical
November 25 - November 30
5th Avenue Theatre
1308 5th Avenue
Discount tickets to A Christmas Story available now at Goldstar for select dates!
---
22nd Annual Gingerbread Village - "Jingle All The Way"
November 25 - January 5
Open for viewing 24 hours a day, 7 days a week
Sheraton Seattle Hotel, 1400 Sixth Avenue
Local architecture firms team up with the Sheraton Seattle culinary team to design, bake, and build amazing gingerbread creations. Vote for your favorite.
---
Back to Top of Seattle Christmas and Holiday Events Calendar
---
A Christmas Carol - ACT Theatre
Photo: Chris Bennion
November 28 - December 28
ACT Theatre, 700 Union St.
This classic story of Ebenezer Scrooge, hope, and redemption, is one of Seattle's favorite holiday traditions and definitely a must-see. Suitable for ages 5 and up. Tickets sell out, so buy yours early.
Discount tickets for A Christmas Carol available for some performances!
---
A(n Improvised) Christmas Carol
November 28 - December 27
Market Theater at Pike Place Market
Based on audience suggestions, this timeless tale of Charles Dickens' Ebenezer Scrooge gets all sorts of hilarious new twists and turns -- and each show is different. Another Unexpected Productions masterpiece.
---
Get your half-price tickets to holiday events!
---
Bellevue Magic Season Ice Arena
Photo Credit - The Bellevue Collection
November 28 - January 11
NE 1st St. and 102nd Ave NE, one block south of Bellevue Square
Admission $12; 8yrs. & under, Military members, Bellevue College students $9
All admissions includes skate rentals

An open-air frozen water ice skating rink in Bellevue Downtown Park. It does have a cover overhead, however, so don't let the rain stop you. Free skating lessons on select evenings, onsite skate sharpening, and food concessions are also available. Stroller skating is every Thursday from 2-3pm (Dec. 4, 11 & 18, and Jan. 1 & 8 from 1pm-3pm (1/1 from 9am-10am).
---
Christmas Ships Festival
November 28 - December 23
Schedule and Info

The Argosy Christmas Ships Festival has been a holiday tradition in Seattle for over 60 years. Each night the Christmas Ship sails to different Puget Sound waterfront communities. On board, choirs sing 20-minute performances broadcast over a speaker system. On shore, people gather around bonfires to watch the flotilla arrive. You can sail on board the Christmas Ship or one of the Parade ships that follow, join a group on shore, or add lights to your own boat and become part of the floating parade.
---
Back to Top of Seattle Christmas and Holiday Events Calendar
---
Family Gingerbread Workshops
Friday, from 12-2pm and 1-7pm
Saturday, 10am-noon and 2-4pm
$40 or $45 per family
Hyatt Regency Bellevue, 900 Bellevue Way

All materials for building your own gingerbread creation are provided. Enjoy snacks and cider while you work. Sign up at www.kidsquestmuseum.org.
---
Holiday Express Train - Redmond Town Center
November 28 - December 24
Friday through Sunday, Nov. 28 - Dec. 24 - Noon to 8pm (mall hours)
Boards at NE 74th & 164th Ave NE

Come enjoy a magical ride on the Holiday Express Train at Redmond Town Center. Sit back, relax and explore this festive outdoor setting. Train ride is roughly 10 to 15 minutes.
---
Macy's Holiday Parade and Tree Lighting Celebration
Friday, November 28
Parade begins at 9:00am
Tree Lighting at 5:00pm
Downtown and Westlake Center

This is a Seattle holiday tradition and one of the highlights of the season. The Holiday Parade starts on 7th Ave, marches down Pine Street and University Street, then heads north to end at Macy's across from Westlake Center. Decorations are up, and the Holiday Carousel is operating. The official lighting of Westlake Center's Holiday Tree and Macy's Star is at 5pm. The evening ends with a fireworks display. It's one of the most fun days of the year to be downtown. We always went early so we could get a hot latte and find a good place to stand along the parade route. My kids loved it!
---
North Pole Santa Pictures
November 28 - December 24
Hours vary - see www.northpoleatthefair.com
Adults - $9, Kids 12 and under free
Washington State Fair and Events Center, 110 Ninth Ave SW, Puyallup
---
Back to Top of Seattle Christmas and Holiday Events Calendar
---
Nutcracker - Pacific Northwest Ballet
Love It Again, For The Last Time
November 28 - December 28
Pacific Northwest Ballet
McCaw Hall, 321 Mercer St, Seattle Center
The world's most recognized and celebrated production of Nutcracker with choreography by Kent Stowell and performed by Pacific Northwest Ballet. The sets and costumes were designed by children's author Maurice Sendak and they are amazing. This is a Seattle holiday tradition.
Discount tickets to PNB's Nutcracker are available to some performances at Goldstar. After 31 years, this will be the final season of PNB's beloved Nutcracker. Do not miss it!!
---
Snowflake Lane
Photo - The Bellevue Collection
November 28 - December 24
7:00pm Nightly
Free
Bellevue Way and NE 8th St, Bellevue

This is a beautiful display of holiday lights, music, drammatic drumming from live toy soldiers, magical snow, and characters including a Snow Queen and King, and Sugar Plum Fairies along the sidewalks of Bellevue Way and NE 8th St.
---
Wildlights at Woodland Park Zoo
November 28 - January 4
5:30pm - 8:30pm (Closed on Dec. 24 & 25)
Adults: $9.50
Children ages 3-12: $6.50
Toddlers 2 and under: Free
N. 50th St. and Phinney Ave. N

Wildlights features wild animals and places created with thousands of sparkling LED lights. There willl be indoor and outdoor displays, food, entertainment, and two real live visiting reindeer, Lucky and Christi . The zoo's historic carousel will be open for rides.
---
Garden D'Lights - Bellevue Botanical Gardens
November 29 - January 3
4:30pm-9:30pm
$5, ages 10 and younger free
Tickets go on sale Oct. 15 at www.gardendlights.org
12001 Main St., Bellevue

Avoid long lines by purchasing tickets online ahead of time. Free nights are Dec. 1,2,3, 4, and 8,9,10,11 - first come, first served.
---
Enjoy a whole night downtown this holiday season...
Waterfront Hotels

Boutique
Hotels

Hotels Near Pike Place

Luxury
Hotels
---
Back to Top of Seattle Christmas and Holiday Events Calendar
---
Greet the Season at Lake Union
Saturday, November 29
10am - 9pm
Lake Union Park, 860 Terry Ave

A hands-on holiday celebration with music and dance performances and activities for all ages.
---
Santa Train - Northwest Railway Museum
Courtesy Northwest Railway Museum
Nov. 29 & 30; Dec. 6 & 7; Dec. 13 & 14; Dec. 19 & 20
$20 per person and a ticket is required for each person 2 years of age and older.
North Bend Depot, 205 McClellan Street, North Bend

Board the train at the North Bend Depot for a 20-minute, 3.5-mile trip to Snoqualmie. There visitors will enter the historic Snoqualmie Depot for a visit with Santa Claus. Children will receive a small gift from Santa. Then enter the restored railway kitchen car for coffee, hot chocolate, and cookies. There will be a little time to visit local shops and attractions before boarding the train for the return trip to North Bend. Visit www.trainmuseum.org for more info.
---
Festivals of Light
December 1 - December 19
$6.50 - $7.50
Seattle Children's Museum
Seattle Center
Learn about winter holiday traditions around the world such as Diwali, Hanukkah, Santa Lucia, Christmas, and Kwanzaa.
---
Broadway at the Paramount - How the Grinch Stole Christmas
December 2 - December 7
Paramount Theatre
911 Pine St.
The magic of Dr. Seuss' beloved holiday tale comes to life on the stage!
---
Back to Top of Seattle Christmas and Holiday Events Calendar
---
Hilltop Holiday Crafts Show
December 3 - December 6
Tuesday - Friday 10am - 8pm
Saturday 10am - 5pm
Free admission and parking
Northwest Arts Center, 9825 NE 24th St., Bellevue

Annual craft show featuring thousands of handmade works from more than 80 selected Northwest crafters and designers.
---
Judy's Scary Little Christmas
December 4 - December 28
ArtsWest
4711 California Ave SW, West Seattle
With spiked grog in hand, Judy Garland welcomes her baggage-ridden celebrity stars – Bing Crosby, Liberace, Ethel Merman, Joan Crawford, Lillian Hellman, VP Richard Nixon, Punch, and a special dark guest – to her 1959 TV Christmas Special. Clever satire, endearing fun and wicked toe-tapping music!
---
Lake Union Lights
5pm-8pm

Sip hot beverages and vote for your favorite decorated boat.
---
A Child's Christmas in Wales & The Long Christmas Dinner
December 5 - December 24
Stone Soup Theatre
4029 Stone Way N
One of the most enduring holiday memoirs, Dylan Thomas's "A Child's Christmas in Wales" recreates the nostalgic magic of Thomas' childhood Christmases in South Wales during a time when everything seemed brighter, better and more alive. "The Long Christmas Dinner" journeys the lives of several generations of the Bayard family, and some of their Christmas dinners.
---
Seattle Restaurant Coupons and Discounts
---
Back to Top of Seattle Christmas and Holiday Events Calendar
---
The Nutcracker - International Ballet Theatre
Photo Credit - The Bellevue Collection
December 5-7 & 12-23
www.ibtbellevue.org
Meydenbauer Center
11100 NE 6th St, Bellevue
---
Great Figgy Pudding Street Caroling Competition
Friday, December 5
5-6pm - Pre-show entertainment on main stage
6:15-7:15pm Caroling teams compete on the streets
7:30-8:30pm - Main stage sing-off and awards
Free; Suggested donation $10/person
Pine Street from 3rd to 7th Avenues and at Westlake Park, 401 Pine St.

A holiday tradition that attracts almost 10,000 people each year. More than 40 caroling teams sing on street corners in and around Westlake Center. The top teams then compete on the Figgy Main Stage.
---
Holiday Pops - "Home for the Holidays"
December 5 - December 7
Benaroya Hall
200 University St.
Bring the whole family to this holiday concert featuring Cirque Musica's acrobats, jugglers, dancers and mimes performing with the Seattle Symphony.
---
Redmond Lights
Saturday, December 6
4pm - 8pm
Free
Redmond City Hall
15670 NE 85th St., Redmond

Start at Redmond City Hall Plaza with live music, refreshments, kids activities, and a holiday tree lighting ceremony with the Mayor of Redmond. Then walk along the West Sammamish Trail and enjoy carolers and lots of holiday decorations. End up at Redmond Town Center where you'll enjoy music, food, and entertainment.
---
Back to Top of Seattle Christmas and Holiday Events Calendar
---
Snow Train to Leavenworth's Lighting Festival
Snow Train at www.alkitours.com
December 6 - December 20
$179 per person, Children are 10% discount
Alki Tours, 6417A Fauntleroy Way SW
800-895-2554 or www.alkitours.com

Each Saturday in December Alki Tours offers a rail tour to Leavenworth, a quaint Bavarian Village in the Cascade Mountains. Passengers board the train at King Street Station, Edmonds Station, or in Everett. The train winds through the Snohomish Valley and then ascends majestic Steven's Pass. Along the way passengers enjoy a catered continental breakfast and onboard entertainment including strolling musicians, commentators, magicians and of course Santa! Near the 4000 foot summit, the train transits the Cascade Tunnel - the second longest in North America. At approximately 12:30pm, the train rolls to a stop in Leavenworth. Leavenworth is dressed to the hilt for the holidays with chestnuts roasting on an open fire, carolers strolling the streets, food booths, sleigh rides, local crafts, outdoor entertainment and more. At dusk everyone gathers to sing "Silent Night" and witness the grand tree lighting as it transforms the village into a magical holiday wonderland! Afterwards, passengers reboard the train and enjoy a catered dinner on the return trip.
Goldstar has half-price tickets to this wonderful Christmas tradition!
---
Winterfest
Saturday, December 6
10am - 5pm
SW 152nd Street in Downtown Burien

Celebrate the holiday season with free horse and carriage rides, hay rides, hot treats, and a chance to shop locally with in-store specials.
---
Deck The Hall Ball
Tuesday, December 9
3:00pm
Tickets
KeyArena, Seattle Center
Sponsored by radio station 107.7 The End, the lineup includes Imagine Dragons, Weezer, Cage the Elephant, Young the Giants and more.
---
The Nutcracker - Olympic Ballet Theatre
December 12 - December 21
Everett Performing Arts Center and Edmonds Center for the Arts

Olympic Ballet Theatre presents its exciting full-length traditional production of The Nutcracker featuring a growing christmas tree, a booming cannon and the audience favorites, Mother Ginger and her Buffoons.
---
Back to Top of Seattle Christmas and Holiday Events Calendar
---
Green Lake Pathway of Lights
Saturday, December 13
4:30pm-7:30pm; Rain or shine
Green Lake Park, 7201 E Green Lake Dr. N

The 2.8 mile path around the lake is lit by luminaria with musicians and treats along the way.
---
Handel's Messiah
December 19 - December 21
Friday, 8pm
Saturday, 1pm and 8pm
Sunday, 2pm
Benaroya Hall
200 University St.
A Seattle tradition, Handel's Messiah performed by Seattle Symphony and Chorale, plus distinguished soloists.
---
Seattle's Traditional Santa Breakfasts
Saturday, December 20 and Sunday, December 21
9:30am - 11:00am
Child under 12: $30 (includes keepsake ornament)
Adult $55
More info
Sheraton Seattle Hotel, 1400 Sixth Avenue
This beloved holiday tradition includes a holiday breakfast for children and adults and features traditional holiday entertainment: Leo the Clown, The Internationally Unknown Juggler, and the Olympic Ballet Theatre presenting an abridged version of The Nutcracker. And, of course, Santa! Reduced parking rates are available in the City Centre Garage.
---
The Bobs After Christmas Holiday Show
Sunday, December 28 and Monday, December 29
7pm
$10 - $23
Triple Door, 216 Union Street
---
Back to Top of Seattle Christmas and Holiday Events Calendar
---
New Year's Eve Party with Shelley & the Curves
Wednesday, December 31
7pm - 1am
Ticket info at www.curvesband.com
Best Western Executive Inn, 200 Taylor Ave N

Dinner, dancing, and a champagne toast. This party features a great view of the Space Needle fireworks at midnight.
---
Half Price Tickets for Seattle Events
Check Goldstar first for half-price tickets to theater, concerts, comedy, tours, Argosy cruises, sports, and more.
---
Back to Top of Seattle Christmas and Holiday Events
---
This is not an exhaustive list! But the Seattle Christmas and Holiday Events Calendar will give you lots of ideas and choices to help you celebrate the season!