Seattle Events Calendar

April 2014
The Seattle Events Calendar April offers our picks for fun events and things to do around the area.
If you haven't seen the Miro exhibit at SAM yet, here's your chance.
The annual Tulip Festival takes place this month and it's definitely worth the drive to see the tulip fields.
The Lion King comes to the Paramount and the Mariners baseball season games begin this month.
---
Got an event we should know about? If you'd like to add it to our Seattle Events Calendar, please tell us about it here!
---
Half Price Tickets for Seattle Events
Pinnochio - Seattle Children's Theatre
The Importance of Being Earnest - Center Theatre
Little Shop of Horrors - ACT Theatre
Skagit Valley Tulip Festival Tour
Chocolate Indulgence Tour
Flashdance - Paramount Theatre
Winery and Waterfall Tour
Lots more...
I recommend checking with Goldstar before you buy tickets to see if they are available for half-price. They offer tickets to theater, concerts, comedy, tours, Argosy cruises, sports, and lots more.
---
Drawn to Seattle: The Work of Seattle Sketcher Gabriel Campanario
December 21 - May 26
MOHAI
Lake Union Park, 860 Terry Ave N
Featuring sketches from the award-winning Seattle Times blog and weekly column, "Seattle Sketcher," this exhibit opens up the pages of Campanario's sketchbook to communicate the significant locations, events, and experiences that have filled his life in Seattle.
---
Fremont First Friday Art Walk
January 3 - December 5
First Friday of every month, 6pm - 9pm
Rain or shine!

---
Twisted Flicks
Last Thursday, Friday, and Saturday of the month at 8:00pm
Wing-It Productions
5510 University Way NE
Twisted Flicks is a combination of live improv and old "B" movies. A classic, cheesy "B" movie is shown on the full-size movie screen without its original soundtrack. The Flick team of professional improvisers sits in the front row and creates all new dialog and sound effects based on audience suggestions. Suitable for all ages.
---
Teatro ZinZanni's "On The Air"
January 31 - June 1
Teatro ZinZanni, 222 Mercer St.
Mercer Street at 3rd Ave near Seattle Center
Tune in as Teatro ZinZanni turns back the dial to the Golden Age of Radio with a variety of dazzling music, acrobatic cirque, and hilarious comedy!
Click here for discount tickets from Goldstar!
---
Back to Top of Seattle Events Calendar April 2014
---
Miro: The Experience of Seeing
February 13 - June 25
Seattle Art Museum, 1300 First Avenue
The exhibition brings together over 50 paintings, drawings and sculptures made in the period between 1963 and 1983.
---
Little Shop of Horrors
March 8 - June 15
5th Avenue Theatre
1308 5th Avenue
This musical comedy is based on the cult horror movie of the same name.

Check for half price tickets on Goldstar!
---
Broadway at the Paramount - The Lion King
March 11 - April 6
Paramount Theatre
911 Pine St.
---
Moisture Festival: Comedy - Variete - Vaudeville
The Aerialistas by John Cornicello
March 14 - April 13
Evenings at 7:30pm (all ages)
Late shows at 10:30pm (21+)
Weekend matinees at 3:00pm (all ages)
Hale's Palladium
4301 Leary Way NW
Presented as a variety show, each act or artist performs his or her routine within a 3-15 minute time slot while being accompanied by a live show band. Acts include aerialists, jugglers, dancers, comedians, rope acts, bubble acts, clowns, acrobats, can can girls, drill teams, musical numbers, and more.


---
Back to Top of Seattle Events Calendar April 2014
---
The Importance of Being Earnest - Seattle Shakespeare
March 19 - April 13
Seattle Shakespeare
Center House Theatre, Seattle Center
Goldstar has discount tickets available!
---
Skagit Valley Tulip Festival
April 1 - April 30
Mt. Vernon, 60 miles north of Seattle
List of Events

A yearly event welcoming the arrival of spring, the Tulip Festival offers activities for all ages including a 2-mile and 5-mile run, bike rides, arts and crafts, a battle of the bands, parade, basketball tournament, quilt show and walk, antiques safari, art fair, salmon barbecue, home tour, wine festival, Deception Pass boat tours, and lots, lots more. But even if all those activities weren't available, the drive is well worth it just to see the amazing fields of tulips! If you've never seen it, don't miss it this year!
Goldstar offers discount tickets for a Tulip Festival Tour. Let someone else do the driving while you enjoy the tulips!
---
Seattle Center Productions - Whirligig!
April 4 - April 20
Monday - Sunday, 11am - 6pm
All Day Pass $7.50, All Day Toddler Zone Pass $4.50, Single ticket $1.50, Free Thursdays (July 17 rides will close at 2pm)
Seattle Center
For two weeks kids can glide, slide, and ride on giant inflatable rides set up in the Center House. Other activities include roaming clowns, face painting, and other entertainment. A special Toddler Zone is also available.
---
Skagit Valley Tulip Run
Saturday, April 5
Race Start Time: 9:30am
Register online at www.tuliprun.com
Skagit Regional Airport in Burlington

A very popular Seattle area race, the Tulip Run is a scenic 2 or 5 mile course that's flat and fast on gravel packed trails. Entry is free to ages 14 and under, and 70 and over.
---
Back to Top of Seattle Events Calendar April 2014
---
Seattle Restaurant Week
April 6 - April 17

Restaurant Week gives you a chance to sample some of Seattle's best restaurants at special affordable prices. Over 150 restaurants are participating. During Restaurant Week, chefs offer 3-course dinners for $28 and many of them are offering 3-course lunches for $15. This is the price per person and does not include drinks, tax or tips. Special pricing is available Sunday - Thursday. See the website for a complete list of participating restaurants and make your reservations early.
---
Seattle Mariners Baseball Opening Game at Safeco Field
Tuesday, Apr. 8, at 7:10pm - vs. Los Angeles Angels

Be a part of the excitement of the opening game of the 2014 season. You can purchase Mariners Tickets online or purchase them at the box office just before the game. All fans in attendance will receive a Mariners 2014 magnetic schedule.
Read more about Seattle Mariners team and Safeco Field.

Plan to make a night of it? Find hotels near Safeco Field where you can walk to the game.
---
The Spring Fair in Puyallup
April 10 - April 13
Thursday, 2pm - 10pm - Free kids admission
Friday & Saturday, 10am - 10pm
Sunday, 10am - 8pm
Adults $10; Students (6-18) $8; Ages 5 & under free
Washington State Fair and Events Center, 110 Ninth Ave SW, Puyallup
Kidzone, science fair, Auto Alley, garden show, Motorsport Mayhem, Fiesta Mexicana, animal exhibits, fabulous food, and rides. Tickets for rides and games are $0.50 each, rides cost more than one ticket.
---
A Midsummer Night's Dream - Pacific Northwest Ballet
April 11 - April 19
McCaw Hall
321 Mercer St, Seattle Center
---
Back to Top of Seattle Events Calendar April 2014
---
Anacortes Spring Wine Festival
Saturday, April 12
12:00pm - 4:30pm
Port of Anacortes historic warehouse at 1st & Commercial, 85 miles north of Seattle

A Skagit Valley Tulip Festival event, featuring 30 wineries, 6 restaurants, and live music.
---
George Strait
Saturday, April 12
7:30pm
Tacoma Dome
2727 E. D St, Tacoma
George Strait Tickets
---
Georgetown Second Saturday Art Attack
Saturday, April 12
6pm - 9pm
Just off I-5 along Airport Way South and S. Corson

This Georgetown Art Walk takes place on the second Saturday of each month and features a variety of visual, performing, and applied arts.
---
Save on Things To Do in Seattle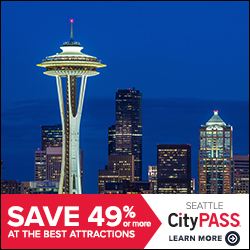 Space Needle
Pacific Science Center
Seattle Aquarium
Experience Music Project
Argosy Cruises Harbor Tour
Woodland Park Zoo OR The Museum of Flight
I recommend the Seattle CityPASS - it will save you 45% off these 6 attractions, plus you can skip the lines. You'll save money if you go to at least four.
---
A Room With a View
April 15 - May 11
5th Avenue Theatre
1308 5th Avenue
A new musical based on the E.M. Forster novel that inspired the film.
Check with Goldstar first for half-price tickets!
---
Back to Top of Seattle Events Calendar April 2014
---
Bunny Bounce and Easter Baskets for the Animals
Saturday, April 19
9:30am - 2:00pm
North Meadow
Woodland Park Zoo
N. 50th St. and Phinney Ave. N
Free with paid admission. Gorillas, elephants, bears, and more get their own Easter baskets lined with flowers, berries, and other treats. Activities include egg hunts for ages 1 to 8, bunny encounters, crafts, and zoo programs throughout the day. A free Bunny Bounce egg hung bag is provided for children.
---
Earth Day 5K Run
Saturday, April 19
9:00am
Myrtle Edwards Park

Celebrate Earth Day with Seattle Magazine in partnership with REI at Myrtle Edwards Park on Saturday, April 20. Head down to Seattle's iconic waterfront for a run that's good for you and good for the planet. Benefits Green Seattle Partnership.
---
Tulip Pedal
Saturday, April 19
Registration from 7am to noon. Course open until 4pm.
$30; Day of: $35; Kids 14 and under free.
La Conner Middle School, 503 N. 6th, La Conner

For all ages and levels. Choose the 20, 40, or 60-mile routes, or ride all three!
---
Arcade Lights - Pike Place Market
Friday, April 25
7pm - 10pm
Details coming soon

An evening of tasting handcrafted foods, brews, and wine from around the Northwest. Entrance fee includes a keepsake glass and 10 tokens. Additional tokens may be purchased that evening.
---
Back to Top of Seattle Events Calendar April 2014
---
Cherry Blossom and Japanese Cultural Festival
April 25 - April 27
Seattle Center House, Fisher Pavilion

Taiko drums, ikebana flowers, Japanese food, tea ceremony demonstrations, artwork, hands-on activities, games, and more.
---
Half Price Tickets
Check Goldstar first for half-price tickets to theater, concerts, tours, comedy, sports, and more. Sign up for FREE and start saving money on fun things to do in Seattle.
---
Back to Top of Seattle Events Calendar April 2014
---