Seattle Events Calendar

August 2014
August means summer and sunshine! The Seattle Events Calendar August 2014 will help you find all sorts of upcoming events in Seattle in August. Street fairs, festivals, outdoor concerts, a county fair, fun runs - take your pick!
The last week of Seafair celebrations is this month, culminating in the popular hydroplane races on Lake Washington and the Boeing Air Show featuring the U.S. Navy Blue Angels. It's a spectacular event that is anticipated by thousands each year.
---
Got an event we should know about? If you'd like to add it to our Seattle Events Calendar, please tell us about it here!
---
Half Price Tickets for Seattle Events
Seattle Seahawks Preseason Football
An Evening of One Acts - ACT Theatre
We Will Rock You - 5th Avenue Theatre
When Sparks Fly - Teatro Zinzanni
Taste Seattle Pioneer Square Food & Cultural Walking Tour
Winery and Waterfall Tour
Lots more...
I recommend checking with Goldstar before you buy tickets to see if they are available for half-price. They offer tickets to theater, concerts, comedy, tours, Argosy cruises, sports, and lots more.
---
Save Big on Things To Do in Seattle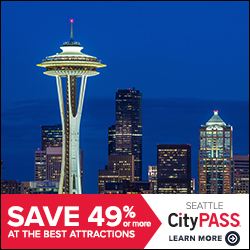 Space Needle
Pacific Science Center
Seattle Aquarium
Experience Music Project
Argosy Cruises Harbor Tour
Woodland Park Zoo OR The Museum of Flight
I recommend the Seattle CityPASS - it will save you 45% off these 6 attractions, plus you can skip the lines. You'll save money if you go to at least four.
---
Fremont First Friday Art Walk
January 3 - December 5
First Friday of every month, 6pm - 9pm
Rain or shine!

---
Twisted Flicks
Last Thursday, Friday, and Saturday of the month at 8:00pm
Wing-It Productions
5510 University Way NE
Twisted Flicks is a combination of live improv and old "B" movies. A classic, cheesy "B" movie is shown on the full-size movie screen without its original soundtrack. The Flick team of professional improvisers sits in the front row and creates all new dialog and sound effects based on audience suggestions. Suitable for all ages.
---
ArtWalk Issaquah
June 6 - September 5
First Fridays June through September
6pm - 9pm
Downtown Issaquah

Art displays, art activities and projects, live music.
---
Chateau Ste. Michelle Concert Series
Chateau Ste. Michelle Winery
Ticket Info
Times vary
Chateau Ste. Michelle Winery
14111 NE 145th St in Woodinville
July 16 - Ringo Starr & His All Starr Band
July 17 - Replay America: The Go-Go's, Patty Smyth and Scandal, Martha Davis and The Motels, Cutting Crew & Naked Eyes Featuring Pete Byrne
July 18 - Lyle Lovett & His Large Band
July 19 - Goo Goo Dolls & Daughtry with special guest Plain White T's
July 26 - Festival of Jazz
July 27 - Chris Isaak
Aug. 1 - Nickel Creek
Aug. 9 - ZZ Top and Jeff Beck
Aug. 22 - Gipsy King's 25th Anniversary Tour
Aug. 23 - Earth, Wind & Fire
Aug. 24 - Peter Frampton's Guitar Circus Featuring Buddy Guy
Sept. 5 - Boston
Sept. 12 - An Evening with Frankie Valli & The Four Seasons
Sept. 13 & 14 - Crosby, Stills & Nash
These are outdoor concerts on the Amphitheatre lawn behind the winery in a beautiful setting, where you can enjoy a glass of wine with some of the best concert shows around. These shows almost always sell out, so if you want to go, don't delay!
---
Back to Top of Seattle Events Calendar August 2014
---
Chinatown-International District JamFest
Third Thursdays
June 19, July 17, August 21
5:30pm - 9:30pm
10th Ave S and S Jackson Street

Hear musicians and bands at the Wingluke Museum and in nearby businesses, dance in Hing Hay Park, Art Walk, restaurants and shops. One cover charge gets you into all the music venues and admission to the Wing Luke Museum.
---
Burien Music in the Park
July 10 - August 14
6:30pm - 8:00pm
Free
Wednesdays - North Seatac Park, 14000 Des Moines Memorial Dr.
Thursdays - Lake Burien School Park, SW 148th St and 16th Ave SW

---
Camlann Medieval Village Summer Festivals
July 19 & 20 and August 23 & 24
Noon-5pm
Camlann Medieval Village
10320 Kelly Road NE, Carnation

Camlann Village is a living-history medieval-style village with crafts, blacksmith, 14th century music, archery, combat by knights in armor, horse rides, games, craft vendors and demonstrations, puppet show, medieval clothing rental, food and more.
---
Broadway at the Paramount - The Book of Mormon
Photo by Joan Marcus
July 22 - August 10
Paramount Theatre
911 Pine St.
If you missed it when it came to town the first time, here's your chance to see it. Don't miss it this time!
---
Save Big on Things To Do in Seattle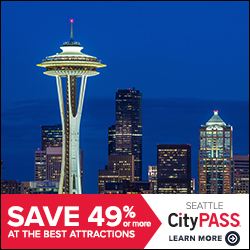 Space Needle
Pacific Science Center
Seattle Aquarium
Experience Music Project
Argosy Cruises Harbor Tour
Woodland Park Zoo OR The Museum of Flight
I recommend the Seattle CityPASS - it will save you 45% off these 6 attractions, plus you can skip the lines. You'll save money if you go to at least four.
---
Back to Top of Seattle Events Calendar August 2014
---
Creation Northwest
July 30 - August 2
Lineup and info
Enumclaw Expo Center, 45224 284th Ave SE, Enumclaw

The nation's largest Christian music festival with live music, kids activities, petting Zoo, worship tent and so much more. Lineup includes Switchfoot, Need to Breathe, Newsboys, Scott Stapp, Thousand Food Krutch, and many more.
---
Seafair Fleet Week
July 30 - August 3
Parade of Ships - July 30
Seattle Waterfront

For over 60 years, Seattleites have welcomed the arrival of the ships and sailors of the U.S. Navy, U.S. Coast Guard, and the Canadian Navy to Seattle's Elliott Bay waterfront for Seafair. Over 5,000 sailors disembark for the opportunity to take part in the Seafair action on Lake Washington.
---
Anacortes Arts Festival
August 1 - August 3
Friday and Saturday 10am - 6pm; Sunday 10am - 5pm

Juried artisans booths, culinary art, fine art exhibits, food, and lots of youth activities.
---
Concerts at the Mural
August 1 - August 22
Fridays at 5:30pm
Free
Mural Amphitheater at Seattle Center
Seating is first-com, first-served, bring your own folding chairs or blankets. Center House Bistro is right next to the Mural and has patio seating overlooking the Mural if you're looking for dinner during the concert. Other food is available inside the Center House. No large bags, large coolers or ice chests, or pets allowed in the movie area. A beer/wine garden will open one hour before the show for people at least 21 years of age.
---
Back to Top of Seattle Events Calendar August 2014
---
Gumshoe 5K Walk
August 1 - August 10
$15 - $20
For entry info go to www.dothegumshoe.org

An annual fundraising detective walk held every August. Solve clues that lead you through a 5 kilometer walk - brain and body exercises with fun stuff to see along the way. The walk can be done in one day or over several days.
---
Magnolia Summer Festival and Art Show
Friday, August 1 and Saturday, August 2
Smith St. between 32nd and 34th; 33rd between Smith and Wheeler

Craft, art, and food booths, juried art show, inflatables, train rides, stage entertainment, pony rides, beer garden, outdoor movie on Saturday night, children's and Grand Parade.
---
Seafair Weekend: Hydroplane Races - Albert Lee Cup
Photo by nrtphotos, on Flickr
August 1 - August 3
South Lake Washington, Stan Sayres Pits

The hydroplane races are the culmination of the month-long Seafair Festival. It is a weekend that thousands of Seattleites look forward to every year featuring exciting high-speed races involving the fastest powerboats and hydroplanes in the world. Lots of entertainment options take place on land as well for the whole family. Tickets are available throught the Seafair website.
---
Auburn ArtRageous Art Festival
Saturday, August 2
11am - 4pm
Les Gove Park, 11th St and Auburn Way

Art, craft and food vendors, hands-on projects.
---
Back to Top of Seattle Events Calendar August 2014
---
Coupeville Arts and Crafts Festival
Saturday, August 9 and Sunday, August 10
10am-6pm Saturday; 10am-5pm Sunday
Coupeville, Penn Cove, Whidbey Island

One of the state's oldest continuously run festivals, this one focuses on quality arts and crafts handmade by artisans from the Pacific Northwest and beyond. There's also live stage entertainment, an art gallery wine reception, and children's activities all against the backdrop of Coupeville's waterfront views.
---
Flute Quest
August 15 - August 17
10:00am - 5:00pm
Free
Saltwater State Park, 25205 Eighth Pl. S, Des Moines

Music festival celebrating the Native American flute. Flute and drum vendors, flute circles, music, free beginners flute playing workshops, arts and crafts, drum circles, fee-based workshops.
---
Central Area Community Festival
Saturday, August 16
2323 E Cherry St.

Live music, food, art and cultural events, games, crafts, entertainment, and more.
---
Fresh Paint - Festival of Artists at Work
Saturday, August 16 and Sunday, August 17
10am-5pm
Everett Marina

Artists turn the Everett Marina into a huge outdoor studio and sidewalk gallery where you can ask anything you want about art and making art, and watch the artists create their work. Other activities include Float Find, Hot Shop (glass blowing), Art Cars, kids art activities, face painting, Interactive History Company, Create-a-Kite, music, and food vendors.
---
Coming in from out of town? Find a place to stay...
---
Back to Top of Seattle Events Calendar August 2014
---
Brasilfest
Sunday, August 17
Seattle Center
Celebration of Brazilian culture featuring music, arts and crafts, food, dance and more.
---
Evergreen State Fair
August 21 - September 1
Evergreen State Fairgrounds
14405 179th Ave SE, Monroe

One of Western Washington's biggest fairs featuring entertainment, draft-horse shows, carnival rides, food, and more.
---
Tibet Fest
Saturday, August 23 and Sunday, August 24
Center House, Seattle Center
Traditional performances with modern song and music, symbolic masks, arts and crafts, children's activities, traditional food.
---
Bremerton Blackberry Festival
August 30 - September 1
Saturday 10am-7pm; Sunday 10am-6pm; Monday 10am-5pm
Bremerton Waterfront Boardwalk
Second Street and Washington Avenue, Bremerton

Blackberries, food, fun run, entertainment, bike ride, and more. Easily accessible from Seattle via the ferry from downtown.
---
Back to Top of Seattle Events Calendar August 2014
---
Bumbershoot
Bumbershoot at Seattle Center
August 30 - September 1
11am - 11pm Daily
Full lineup by day
Bumbershoot Tickets
Seattle Center
Bumbershoot is North America's largest urban arts festival featuring music, dance, film, comedy, theatre, performance and visual arts that lasts for three days over Labor Day weekend. One ticket (one-day pass or three-day pass) gets you onto the Festival grounds each day, and there's plenty to see, and do all weekend.
---
Half Price Tickets to Summer Events
Check Goldstar first for half-price tickets to theater, concerts, tours, comedy, sports, and more. Sign up for FREE and start saving money on fun things to do in Seattle.
---
Back to Top of Seattle Events Calendar August 2014
---