Seattle Events Calendar

December 2013
Our Seattle Events Calendar December 2013 is packed with lots of fun things to do, including holiday events to help you and your family enjoy the season.
Pacific Northwest Ballet's Nutcracker ballet choreographed by Maurice Sendak (Where the Wild Things Are) is a Northwest tradition. Other must-see holiday events are Seattle Symphony's performance of Handel's Messiah and ACT Theatre's production of Dickens' Christmas Carol.
Click here for a more complete list of Christmas and Holiday Events.
---
Half Price Tickets for Seattle Events
Goldstar offers rock-bottom prices and half-off tickets to theater, concerts, comedy, tours, Argosy cruises, sports, and more, including lots of holiday events.
---
First Thursdays - Free admission on December 5
Burke Museum - open till 8pm, admission is free.
Seattle Art Museum - Free admission 10am to 9pm.
Seattle Asian Art Museum - Free admission 10am to 9pm.
Museum of Flight - Free admission 5pm to 9pm ONLY.
Museum of History and Industry - Free admission 10am to 8pm.
Wing Luke Asian Art Museum - Free admission 10am to 8pm, first Thursdays and first Saturdays.
Northwest African American Museum - Free admission 11am to 7pm, first and second Thursdays.

---
Fremont First Friday Art Walk
January 4 - December 6
First Friday of every month, 6pm - 9pm
Rain or shine!

---
Teatro ZinZanni's "Hail Caesar! Forbidden Oasis"
September 12 - January 26
Teatro ZinZanni, 222 Mercer St.
Mercer Street at 3rd Ave near Seattle Center
This Saharan style adventure features a blend of comedy, romance, circus, and music. Tickets include the show and a four-course meal.
Teatro ZinZanni discount tickets available at Goldstar.
---
Peru: Kingdoms of the Sun and the Moon
October 17 - January 4
Seattle Art Museum, 1300 First Avenue
---
Back to Top of Seattle Events Calendar December 2013
---
Teatro ZinZanni's "Tambourine Submarine"
October 19 - December 15
Teatro ZinZanni, 222 Mercer St.
Mercer Street at 3rd Ave near Seattle Center
Come one, come all to Teatro ZinZanni's historic "spiegeltent", where Seattle's own Recess Monkey band -- a nationally acclaimed trio of elementary school teachers-slash-rock stars -- are set to entertain the younger set with songs and "sea-nanigans" from their two ocean-themed albums. An all-ages show.
Teatro ZinZanni tickets for select performances available for half-price!
---
Festival of Trees
November 23 - December 4
Fairmont Olympic Hotel, 411 University St.
A display of beautifully decorated Christmas trees, each with its own theme and style, and each dedicated to a patient at Seattle Children's Hospital.
---
21st Annual Gingerbread Village
November 26 - January 1
Open for viewing 24 hours a day, 7 days a week
Sheraton Seattle Hotel, 1400 Sixth Avenue
Local architecture firms team up with the Sheraton Seattle culinary team to design, bake, and build amazing gingerbread creations. Vote for your favorite.
---
Get your half-price tickets to holiday events!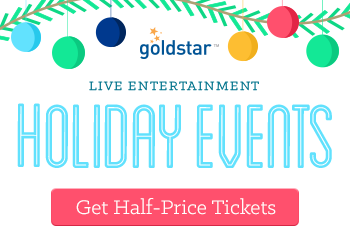 ---
Back to Top of Seattle Events Calendar December 2013
---
A Christmas Carol - ACT Theatre
Photo: Chris Bennion
November 29 - December 29
ACT Theatre, 700 Union St.
This classic story of Ebenezer Scrooge, hope, and redemption, is one of Seattle's favorite holiday traditions and definitely a must-see. Suitable for ages 5 and up. Tickets sell out, so buy yours early.
Discount tickets for A Christmas Carol available as of 12/9 for some performances.
---
Oliver
November 29 - December 31
5th Avenue Theatre
1308 5th Avenue
The classic musical based on the novel Oliver Twist by Charles Dickens.
Half price tickets available at Goldstar!
---
Christmas Ships Festival
November 29 - December 23
Schedule and Info

The Argosy Christmas Ships Festival has been a holiday tradition in Seattle for 63 years. Each night the Christmas Ship sails to different Puget Sound waterfront communities. On board, choirs sing 20-minute performances broadcast over a speaker system. On shore, people gather around bonfires to watch the flotilla arrive. You can sail on board the Christmas Ship or one of the Parade ships that follow, join a group on shore, or add lights to your own boat and become part of the floating parade.
---
Back to Top of Seattle Events Calendar December 2013
---
Wildlights at Woodland Park Zoo
November 29 - January 4
5:30pm - 8:30pm (Closed on Dec. 24 & 25)
Adults: $9.50
Children ages 3-12: $6.50
Toddlers 2 and under: Free
N. 50th St. and Phinney Ave. N

Wildlights features wild animals and places created with thousands of sparkling LED lights. There willl be indoor and outdoor displays, food, entertainment, and two real live visiting reindeer, Lucky and Christi . The zoo's historic carousel will be open for rides.
---
Winterfest at Seattle Center
November 29 - December 31
Winterfest Info
Seattle Center
Six weeks of free and affordable, fun-filled activities and entertainment. Visit Center House - displaying its winter finest - or explore the enchanting Winter Train and Village. The Ice Rink returns (through Jan. 1), along with music and comedy, jazz and dance, cultural celebrations, ice sculpting, fireside singing, student showcases, the Dickens Carolers, and lots more.
---
Zoolights
November 29 - January 5
5pm - 9pm
$7.50 online at www.pdza.org
$8.75 at the gate
Age 2 and under free
Point Defiance Zoo and Aquarium
5400 N. Pearl St., Tacoma
Lights display and light sculptures of animals and local landmarks such as the Tacoma Narrows Bridge. Every Tuesday and Wednesday night of Zoolights at 6pm, you can see Santa scuba dive with the sharks.
---
Give an experience for Christmas!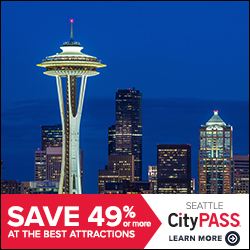 Space Needle
Pacific Science Center
Seattle Aquarium
Experience Music Project
Argosy Cruises Harbor Tour
Woodland Park Zoo OR The Museum of Flight
I recommend the Seattle CityPASS - it will save you 45% off these 6 attractions, plus you can skip the lines. You'll save money if you go to at least four.
---
Back to Top of Seattle Events Calendar December 2013
---
Garden D'Lights - Bellevue Botanical Gardens
November 30 - January 4
5pm - 10pm
$5, ages 10 and younger free
Tickets go on sale Oct. 31 at www.gardendlights.org
12001 Main St., Bellevue

Avoid long lines by purchasing tickets online ahead of time. Free nights are Nov. 26, 27, 28, and 29, and Dec. 3, 4, 5, and 6 - first come, first served.
---
Nutcracker - Pacific Northwest Ballet
November 30 - December 29
Pacific Northwest Ballet
McCaw Hall, 321 Mercer St, Seattle Center
The world's most recognized and celebrated production of Nutcracker with choreography by Kent Stowell and performed by Pacific Northwest Ballet. The sets and costumes were designed by children's author Maurice Sendak and they are amazing. This is a Seattle holiday tradition.
---
Santa Train 2013 - Northwest Railway Museum
Courtesy Northwest Railway Museum
Nov. 30; Dec. 7 & 8; Dec; 14 & 15; Dec. 20 & 21
$20 per person and a ticket is required for each person 2 years of age and older.
North Bend Depot, 205 McClellan Street, North Bend

Board the train at the North Bend Depot for a 20-minute, 3.5-mile trip to Snoqualmie. There visitors will enter the historic Snoqualmie Depot for a visit with Santa Claus. Children will receive a small gift from Santa. Then enter the restored railway kitchen car for coffee, hot chocolate, and cookies. There will be a little time to visit local shops and attractions before boarding the train for the return trip to North Bend. Visit www.trainmuseum.org for more info.
---
Back to Top of Seattle Events Calendar December 2013
---
Seattle Marathon
Sunday, December 1
Seattle Center – 5th Avenue between Harrison and Mercer Streets, east of the Experience Music Project
$85 - $145 Marathon; $75 - $135 Half-Marathon
Preregister at www.seattlemarathon.org

Price depends on the date of registration, so the earlier you register the cheaper it is. No race-day registration.
---
Deck The Hall Ball
Tuesday, December 3
3:00pm
Tickets
KeyArena, Seattle Center
Sponsored by radio station 107.7 The End, the lineup includes The Killers, M83, Metric, The Lumineers, Passion Pit, AWOLNation, Grouplove, Of Monsters and Men, and The Joy Formidable.
---
Holiday Pops - "Home for the Holidays"
December 5 - December 8
Benaroya Hall
200 University St.
Jeff Tyzik leads the orchestra and special choral guests in a festive collection of seasonal favorites, served up with plenty of wit and warmth for all ages. From classical classics to traditional Christian hymns to songs about sleigh rides and a certain red-nosed reindeer, this concert will delight everyone from ages 5 to 95.
Half-price tickets available here!
---
Back to Top of Seattle Events Calendar December 2013
---
Snow Train to Leavenworth's Lighting Festival
Snow Train at www.alkitours.com
December 7 - December 21
$179 per person, Children are 10% discount
Alki Tours, 6417A Fauntleroy Way SW
800-895-2554 or www.alkitours.com

Each Saturday in December Alki Tours offers a rail tour to Leavenworth, a quaint Bavarian Village in the Cascade Mountains. Passengers board the train at King Street Station, Edmonds Station, or in Everett. The train winds through the Snohomish Valley and then ascends majestic Steven's Pass. Along the way passengers enjoy a catered continental breakfast and onboard entertainment including strolling musicians, commentators, magicians and of course Santa! Near the 4000 foot summit, the train transits the Cascade Tunnel - the second longest in North America. At approximately 12:30pm, the train rolls to a stop in Leavenworth. Leavenworth is dressed to the hilt for the holidays with chestnuts roasting on an open fire, carolers strolling the streets, food booths, sleigh rides, local crafts, outdoor entertainment and more. At dusk everyone gathers to sing "Silent Night" and witness the grand tree lighting as it transforms the village into a magical holiday wonderland! Afterwards, passengers reboard the train and enjoy a catered dinner on the return trip.
Goldstar has half-price tickets to this wonderful Christmas tradition!
---
---
Winter Celebration Animal Enrichment - Woodland Park Zoo
Sunday, December 15 and Monday, December 16
11:00am - 2:00pm
Woodland Park Zoo
N. 50th St. and Phinney Ave. N
Watch the animals munch on holiday-themed treats such as wreaths with fruit, evergreen trees with ornamental fruit, boughs, and wrapped boxes.
---
Handel's Messiah
December 20 - December 22
Friday, 8pm
Saturday, 1pm and 8pm
Sunday, 2pm
Benaroya Hall
200 University St.
A Seattle tradition, Handel's Messiah performed by Seattle Symphony and Chorale, plus distinguished soloists.
Half price Handel's Messiah tickets available to one performance as of 11/13.
---
Back to Top of Seattle Events Calendar December 2013
---
Broadway at the Paramount - Evita
December 31 - January 5
Paramount Theatre
911 Pine St.
---
New Year's Eve Party with Shelley & the Curves
Tuesday, December 31
Cocktails at 6pm; Dinner at 7:30pm; Music and dancing 9pm - 1am
Ticket info at www.curvesband.com
Best Western Executive Inn, 200 Taylor Ave N

This party features a great view of the Space Needle fireworks at midnight.
---
Resolution 2014
Tuesday, December 31
7:30pm - 3am
18yrs old and up
WaMu Theater
CenturyLink (Qwest) Field Event Center, 1000 Occidental Ave
---
Half Price Tickets for Seattle Events
Check Goldstar first for half-price tickets to theater, concerts, tours, comedy, sports, and more. Sign up for FREE and start saving money on fun things to do in Seattle.
---
Back to Top of Seattle Events Calendar December
---
Share your Seattle Event!
Please tell us about it - date, time, exact location, cost, full description, how to get tickets, and upload one or more photos.