Seattle Events Calendar

February 2015
It might be rainy, but our Seattle Events Calendar for February gives you lots of ideas for fun events and things to do to help you and your family have fun anyway. After all, if we let a little rain stop us here in Seattle we'd never do anything!
See Broadway's Dirty Dancing at the Paramount, the Pompeii exhibit at the Pacific Science Center, enjoy an evening of jazz music at Jazz Alley, or get ideas for your garden at the Northwest Flower and Garden Show. There's lots to do so grab a cup of your favorite hot beverage, a pen, your calendar, and pick your favorites.
Is there an event we should know about? If you'd like to add an event to our Seattle Events Calendar,, tell us about it here!
---
Half-Price Tickets Available This Month
Goldstar offers tickets for up to half off to lots of theater, concerts, comedy and sports. It's free to sign up, and one of the best deals around.
---
Things To Do Indoors in Seattle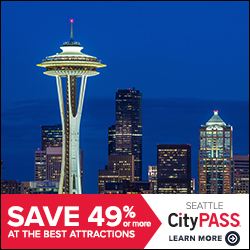 Space Needle
Pacific Science Center
Seattle Aquarium
Experience Music Project
Argosy Cruises Harbor Tour
Woodland Park Zoo OR The Museum of Flight
I recommend the Seattle CityPASS - it will save you 45% off these 6 attractions, plus you can skip the lines. You'll save money if you go to at least four.
---
Fremont First Friday Art Walk
January 2 - December 4
First Friday of every month, 6pm - 9pm
Rain or shine!

---
Georgetown Second Saturday Art Attack
January 10 - December 12
6pm - 9pm
Just off I-5 along Airport Way South and S. Corson

This Georgetown Art Walk takes place on the second Saturday of each month and features a variety of visual, performing, and applied arts.
---
Broadway at the Paramount - Dirty Dancing
January 20 - February 1
Paramount Theatre
911 Pine St.
---
Children's Film Festival Seattle
January 22 - February 7
Schedule
Admission to most festival programs is $8 for kids, $11 for adults, and $6 for Northwest Film Forum members.
Most programs take place at various Capitol Hill cinemas.

---
Seattle Children's Theatre - Mwindo
January 22 - February 15
Seattle Children's Theatre at Seattle Center
201 Thomas St.
A centuries old African tale featuring heroic beings and fantastical creatures. For ages 9 and up.
Check Goldstar for discount tickets to this show!
---
Back to Top of Seattle Events Calendar February 2015
---
Seattle Boat Show
Courtesy Seattle Boat Show
January 23 - February 1
Weekdays: 11am-8pm
Saturday: 10am-8pm
Sunday, Jan. 25: 10am-6pm
Sunday, Feb 1: 10am-3pm
Adults $12; Youth (11-17) $5; Kids 10 & under free
Qwest Field Events Center and South Lake Union

The West Coast's largest boat show, there will be more than 1,000 watercraft indoors at CenturyLink Field Event Center and afloat on South Lake Union.
---
Humble Boy
January 29 - February 15
Thursdays, Fridays, Saturdays at 7:30pm; Sunday matinee at 2:00pm
Seattle Public Theater at the Bathhouse
7312 W. Greenlake Dr. N
Lifting liberally from Hamlet, this nimble and offbeat comedy set in an English garden estate introduces a socially awkward scientist who deftly links the cosmology of bees to black holes, but cannot fathom the mysteries of love and family.
---
Twisted Flicks
Last weekend of the month at 8:00pm
Wing-It Productions
5510 University Way NE
Twisted Flicks is a combination of live improv and old "B" movies. A classic, cheesy "B" movie is shown on the full-size movie screen without its original soundtrack. The Flick team of professional improvisers sits in the front row and creates all new dialog and sound effects based on audience suggestions. Suitable for all ages.
---
Art Walk in Pioneer Square
February 5 - May 7
First Thursday of every month, 5pm - 8pm

---
So You Think You Can Dance
Thursday, February 5
7:30pm
Paramount Theatre
911 Pine St.
---
Back to Top of Seattle Events Calendar February 2015
---
POMPEII: The Exhibition
February 7 - May 25
Pacific Science Center
200 Second Ave N, Seattle Center
Experience Pompeii before and after the epic eruption of Mt. Vesuvius 2,000 years ago.
---
Northwest Flower and Garden Show
February 11 - February 15
Wednesday - Saturday 9am-8pm
Sunday 9am-6pm
Washington State Convention Center
800 Convention Place, 7th and Pike
A world-class flower and garden show, this is also the nation's second largest with over 350 nurseries and other exhibitors showcasing products and services related to gardening, a children's area, a high school horticulture students display, floral display competitions, container garden exhibition, and lots more.
---
Seattle Home Show
February 14 - February 22
Monday - Friday 10am-6pm; Friday - Saturday 10am-8pm
CenturyLink Field Event Center
See the latest in decor, landscaping, design, and more from almost 600 exhibitors at the nation's oldest and largest home show.
---
Harlem Globetrotters
Sunday, February 15
2:00pm
KeyArena, Seattle Center
---
Seattle Festival of Improv Theater - SFIT
February 18 - February 22
27 improv groups in 2 venues:
Jet City Improv, 5510 University Way NE
SFIT Second Stage, 3940 Brooklyn Ave NE
More Info

Featuring a variety of different improv groups from across the nation and around the world!
---
Back to Top of Seattle Events Calendar February 2015
---
Seattle Opera - Semele
February 21 - March 7
McCaw Hall
321 Mercer St, Seattle Center
Goldstar has discount tickets, so check with them first!
---
Hops and Props
Saturday, February 28
7:00pm - 10:00pm
Museum of Flight, 9404 East Marginal Way S
An annual event, Hops and Props brings brewers to the Museum of Flight. Ticket price includes gourmet food, live music, a commemorative glass, a tasting guide, and access to the Museum's galleries. Attendees must be 21 years of age or older and valid photo ID will be required at the door.
---
Half Price Tickets for Seattle Events
Check Goldstar first for half-price tickets to theater, concerts, tours, comedy, sports, and more. Sign up for FREE and start saving money on fun things to do in Seattle.
---
Back to Top of Seattle Events Calendar February 2015
---