Seattle Events Calendar

February 2014
It might be rainy, but our Seattle Events Calendar for February gives you lots of ideas for fun events and things to do to help you and your family have fun anyway. After all, if we let a little rain stop us here in Seattle we'd never do anything!
See Monty Python's Spamalot at the 5th Avenue, PNB's The Sleeping Beauty, enjoy an evening of jazz music at Jazz Alley, or get ideas for your garden at the Northwest Flower and Garden Show. There's lots to do so grab a cup of your favorite hot beverage, a pen, your calendar, and pick your favorites.
Is there an event we should know about? If you'd like to add an event to our Seattle Events Calendar,, tell us about it here!
---
Half-Price Tickets Available This Month
Goldstar offers tickets for up to half off to lots of theater, concerts, comedy and sports. It's free to sign up, and one of the best deals around.
---
Drawn to Seattle: The Work of Seattle Sketcher Gabriel Campanario
December 21 - May 26
MOHAI
Lake Union Park, 860 Terry Ave N
Featuring sketches from the award-winning Seattle Times blog and weekly column, "Seattle Sketcher," this exhibit opens up the pages of Campanario's sketchbook to communicate the significant locations, events, and experiences that have filled his life in Seattle.
---
Fremont First Friday Art Walk
January 3 - December 5
First Friday of every month, 6pm - 9pm
Rain or shine!

---
Children's Film Festival Seattle
January 23 - February 8
Schedule
Admission to most festival programs is $8 for kids, $11 for adults, and $6 for Northwest Film Forum members.
Most programs take place at various Capitol Hill cinemas.

---
American Wee-Pie
January 24 - February 16
Thursdays, Fridays, Saturdays at 7:30pm; Sunday matinee at 2:00pm
Seattle Public Theater at the Bathhouse
7312 W. Greenlake Dr. N
A middle-aged textbook editor returns to his hometown for a funeral and finds himself pulled along on an unexpected journey of self-reinvention. A heartbreaking new comedy about recession, career second acts, and the sometimes life-altering wonder of a small good thing.
---
Back to Top of Seattle Events Calendar February 2014
---
Seattle Boat Show
Courtesy Seattle Boat Show
January 24 - February 2
Weekdays: 11am-8pm
Saturday: 10am-8pm
Sunday: 10am-8pm
Adults $12; Youth (11-17) $5; Kids 10 & under free
Qwest Field Events Center and South Lake Union

The West Coast's largest boat show, there will be more than 1,000 watercraft indoors at CenturyLink Field Event Center and afloat on South Lake Union.
---
Twisted Flicks
Last Thursday, Friday, and Saturday of the month at 8:00pm
Wing-It Productions
5510 University Way NE
Twisted Flicks is a combination of live improv and old "B" movies. A classic, cheesy "B" movie is shown on the full-size movie screen without its original soundtrack. The Flick team of professional improvisers sits in the front row and creates all new dialog and sound effects based on audience suggestions. Suitable for all ages.
---
Spamalot
January 30 - March 2
5th Avenue Theatre
1308 5th Avenue
The 5th Avenue says "Lovingly ripped off from the 1975 film Monty Python and the Holy Grail. If you're a Monty Python fan, you'll love it!
Get tickets at Goldstar for half-price!
---
Red Tiger Tales - UMO Ensemble
January 31 - February 2
Friday and Saturday at 7:30pm; Sunday matinee at 2pm
ACT Theatre, 700 Union St.
UMO Ensemble returns to dazzle you with dangling from a rope, juggling, balancing, and clowning, all while telling stories. With puppetry, music, and masks, there is something for all ages.
---
Back to Top of Seattle Events Calendar February 2014
---
The Sleeping Beauty - Pacific Northwest Ballet
January 31 - March 9
McCaw Hall
321 Mercer St, Seattle Center
Faithfully portrays the beloved fairy tale with classical ballet, magnificent costumes and sets, and the timeless music of Tchaikovsky. A happily ever after tale for all ages.
---
Teatro ZinZanni's "On The Air"
January 31 - June 1
Teatro ZinZanni, 222 Mercer St.
Mercer Street at 3rd Ave near Seattle Center
Tune in as Teatro ZinZanni turns back the dial to the Golden Age of Radio with a variety of dazzling music, acrobatic cirque, and hilarious comedy!
---
Things To Do Indoors in Seattle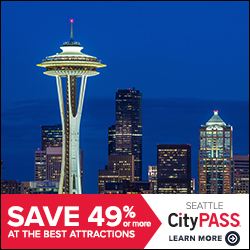 Space Needle
Pacific Science Center
Seattle Aquarium
Experience Music Project
Argosy Cruises Harbor Tour
Woodland Park Zoo OR The Museum of Flight
I recommend the Seattle CityPASS - it will save you 45% off these 6 attractions, plus you can skip the lines. You'll save money if you go to at least four.
---
Belgianfest
Saturday, February 1
Session 1: 12:00-4:00pm
Session 2: 5:30pm-9:30pm
$35 in Advance at BrownPaperTickets; $40 at the door
Admission includes ten 4oz. tastes and a commemorative tasting glass
Bell Harbor International Conference Center
2211 Alaskan Way, Pier 66
Washington breweries serve up samples of their Belgian-style beers brewed with Belgian yeast. Must be 21yrs. of age or older.
---
Northwest Flower and Garden Show
February 5 - February 9
Wednesday - Saturday 9am-8pm
Sunday 9am-6pm
Washington State Convention Center
800 Convention Place, 7th and Pike
A world-class flower and garden show, this is also the nation's second largest with over 350 nurseries and other exhibitors showcasing products and services related to gardening, a children's area, a high school horticulture students display, floral display competitions, container garden exhibition, and lots more.
---
Back to Top of Seattle Events Calendar February 2014
---
Seattle Children's Theatre - Pinocchio
February 6 - March 9
Seattle Children's Theatre at Seattle Center
201 Thomas St.
For ages 6+.
---
Miro: The Experience of Seeing
February 13 - June 25
Seattle Art Museum, 1300 First Avenue
The exhibition brings together over 50 paintings, drawings and sculptures made in the period between 1963 and 1983.
---
Harlem Globetrotters
Monday, February 17
2:00pm
KeyArena, Seattle Center
Get half-price tickets to select performances here..
---
Seattle Festival of Improv Theater - SFIT
February 19 - February 23
27 improv groups in 2 venues:
Jet City Improv, 5510 University Way NE
SFIT Second Stage, 3940 Brooklyn Ave NE
More Info

Featuring a variety of different improv groups from across the nation and around the world!
---
Back to Top of Seattle Events Calendar February 2014
---
Seattle Opera - The Consul
February 22 - March 7
McCaw Hall
321 Mercer St, Seattle Center
---
Half Price Tickets for Seattle Events
Check Goldstar first for half-price tickets to theater, concerts, tours, comedy, sports, and more. Sign up for FREE and start saving money on fun things to do in Seattle.
---
Back to Top of Seattle Events Calendar February 2014
---