Seattle Events Calendar

March 2015
The trees are starting to bud, and St. Patrick's Day looms! The Seattle Events Calendar March will help you find fun things to do.
Enjoy the St. Patrick's Day Parade, Irish Week, or the Pompeii exhibit at Pacific Science Center.
If you like art, check out Fremont's Art Walk or the Art Attack in Georgetown.
March is packed with shows, concerts, family activities and much more - enough to keep you busy every day and then some!
---
Got an event we should know about? If you'd like to add it to our Seattle Events Calendar, please tell us about it here!
---
Half Price Tickets for Seattle Events
I recommend checking with Goldstar before you buy tickets to see if they are available for half-price. They offer tickets to theater, concerts, comedy, tours, Argosy cruises, sports, and lots more.
---
Things To Do in Seattle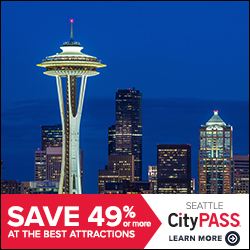 Space Needle
Pacific Science Center
Seattle Aquarium
Experience Music Project
Argosy Cruises Harbor Tour
Woodland Park Zoo OR The Museum of Flight
I recommend the Seattle CityPASS - it will save you 45% off these 6 attractions, plus you can skip the lines. You'll save money if you go to at least four.
---
Fremont First Friday Art Walk
January 2 - December 4
First Friday of every month, 6pm - 9pm
Rain or shine!

---
Georgetown Second Saturday Art Attack
January 10 - December 12
6pm - 9pm
Just off I-5 along Airport Way South and S. Corson

This Georgetown Art Walk takes place on the second Saturday of each month and features a variety of visual, performing, and applied arts.
---
Twisted Flicks
Last weekend of the month at 8:00pm
Wing-It Productions
5510 University Way NE
Twisted Flicks is a combination of live improv and old "B" movies. A classic, cheesy "B" movie is shown on the full-size movie screen without its original soundtrack. The Flick team of professional improvisers sits in the front row and creates all new dialog and sound effects based on audience suggestions. Suitable for all ages.
---
Art Walk in Pioneer Square
February 5 - May 7
First Thursday of every month, 5pm - 8pm

---
POMPEII: The Exhibition
February 7 - May 25
Pacific Science Center
200 Second Ave N, Seattle Center
Experience Pompeii before and after the epic eruption of Mt. Vesuvius 2,000 years ago.
---
Back to Top of Seattle Events Calendar March 2015
---
Seattle Opera - Semele
February 21 - March 7
McCaw Hall
321 Mercer St, Seattle Center
Goldstar has discount tickets, so check with them first!
---
Silent Movie Mondays at the Paramount
March 2 - March 16
7:00pm
Paramount Theatre
911 Pine St.
Films feature live accompaniment on the historic Mighty Wurlitzer Organ by organist Jim Riggs.
March 2: Metropolis (1927)
March 9: Faust (1926)
March 16: People On Sunday (1930)
---
Seattle Children's Theatre - Goodnight Moon
March 5 - April 19
Seattle Children's Theatre at Seattle Center
201 Thomas St.
Adapted from Goodnight Moon by Margaret Wise Brown and Clement Hurd. For ages 3 and up.
Check with Goldstar first for half price tickets!
---
Irish Festival
Saturday, March 14 and Sunday, March 15
10am - 6pm Saturday
Noon - 6pm Sunday, Admission Free
Seattle Center
The Festival features booths selling Irish and Celtic products, Irish music, singing, dancing, workshops, lectures, cultural displays, Irish films, children's contests and activities, and more.
---
St. Patrick's Day Parade
Saturday, March 14
12:30pm
The Monorail will be free from 1:30 - 2:30pm for travel from Westlake Park to the Seattle Center to participate in the Irish Festival.

The parade starts from 4th Ave at Jefferson in downtown Seattle, proceeds along 4th Ave to the reviewing stand at Westlake Park, and ends at the Seattle Center with closing ceremonies at 2pm.
---
Back to Top of Seattle Events Calendar March 2015
---
Northwest Women's Show
March 20 - March 22
Friday 11 - 6pm; Saturday 10 - 6pm; Sunday 10 - 6pm
General admission $15; Children under 6 are free
CenturyLink Field Event Center
400 exhibits, 4 entertainment stages, seminars, fashion shows, shopping, and a whole lot more.
---
Seattle's French Fest
Sunday, March 22
Seattle Center
A family-friendly event that will feature live music, theater and dance performances, international cuisine, seminars and demos, games, and more in celebration of French-speaking cultures.
---
Taste Washington! the ultimate wine experience
March 26 - March 29
More Info at Taste Washington
CenturyLink Field Event Center
One of the nation's premier wine and food events featuring 200 wineries and more than 40 restaurants.
---
Best of the Northwest - Spring
Saturday, March 28 and Sunday, March 29
10am-6pm
Hangar 30, Magnuson Park, 7400 Sand Point Way NE

Art, fine crafts, art talks, live music, wine tasting, and entertainment. Parking is free.
---
Half Price Tickets
Check Goldstar first for half-price tickets to theater, concerts, tours, comedy, sports, and more. Sign up for FREE and start saving money on fun things to do in Seattle.
---
Back to Top of Seattle Events Calendar March 2015
---