Seattle Events Calendar

May 2013
The Seattle Events Calendar May has lots of ideas for fun things to do.
The summer season officially gets underway with the Northwest Folklife Festival on Memorial Day Weekend. It's three days of music, dance, workshops, food, and more.
Also this month is the Spring Fair, the U District Street Fair, Beat the Bridge, and lots more.
---
Got an event we should know about? If you'd like to add it to our Seattle Events Calendar, please tell us about it here!
---
Get Half Price Tickets for Seattle Events
Flashdance - Paramount Theatre
Jersey Boys - 5th Avenue Theatre
Boeing Boeing - Seattle Repertory Theatre
Skagit Valley Tulip Festival Tour
Dinner at Wotan's - Teatro Zinzanni
Flashdance - Paramount Theatre
Winery and Waterfall Tour
Lots more...
I recommend checking with Goldstar before you buy tickets to see if they are available for half-price. They offer tickets to theater, concerts, comedy, tours, Argosy cruises, sports, and lots more. Here's a sampling of this month's offers:
---
Fremont First Friday Art Walk
January 4 - December 6
First Friday of every month, 6pm - 9pm
Rain or shine!

---
Teatro ZinZanni's "Dinner at Wotan's"
January 31 - May 12
Teatro ZinZanni, 222 Mercer St.
Mercer Street at 3rd Ave near Seattle Center
Teatro ZinZanni tickets for select performances available for half-price!
---
European Masters: The Treasures of Seattle
February 14 - May 19
Seattle Art Museum, 1300 First Avenue
See works from the Treasures of Kenwood House in London, including Rembrandt, Van Dyck, and Gainsborough.
---
Back to Top of Seattle Events Calendar May 2013
---
Art Walk in Pioneer Square
Thursday, May 2
First Thursday of every month, Noon - 8pm
www.firstthursdayseattle.com

---
"Taste for a Cure" Wine Procurement Party - Sixth Annual
Friday, May 3
6:00pm - 9:00pm
RSVP
Tickets $50 cash contribution OR one bottle of wine ($50 or more retail value) per person, all inclusive
Hotel 1000, 1000 First Ave

An evening of sampling Northwest wines and microbrews from around the world, tasty hors d'oeuvres, live entertainment, and your chance to win a one-night stay at Hotel 1000. Donated wine will be auctioned off at the Hutch Holiday Gala on Saturday, Dec. 3 with all proceeds benefiting Fred Hutchinson Cancer Research Center.
---
"Seattle Challenge": A Race of Wits Around the Emerald City
Saturday, May 4
1:00pm
Pyramid Alehouse, 1201 1st Ave S.

An "Amazing Race"-style scavenger hunt that sends teams on a mad dash through the city to solve clues, plot the best route, and race to the finish for thousands of dollars in cash and prizes. Party afterwards at Pyramid Alehouse, featuring music, an awards ceremony, food and drink for purchase and costume contest. Entry includes race T-shirt, race bib, entry into the festival and more. Pre-register your team at www.challengenation.com.
---
---
Back to Top of Seattle Events Calendar May 2013
---
Seattle Opera - La Voix Humaine & Suor Angelica
May 4 - May 18
McCaw Hall
321 Mercer St, Seattle Center
---
Vigor Seattle Maritime Festival
May 7 - May 11
Seattle waterfront

Tuesday, May 7 - Maritime Career Day - Maritime Event Center, Pier 66
Wednesday, May 8 - Stories of the Sea - Highliner Pub, Fishermen's Terminal
Saturday, May 11 - Family Fun Day - Pier 66, Bell Harbor Marina
---
Stories of the Sea
Wednesday, May 8
8:00 - 10:30 pm
Free
Highliner Pub & Grill, 3909 18th Ave W

The 12th annual Stories of the Sea competition draws fishers, sailors, and other folks as they present original stories, poems, and songs about their lives and experiences on the sea. This community event is fun to watch and is part of the Vigor Seattle Maritime Festival. Cash prizes are awarded to the top three finishers. Each story should be 10 minutes, and only 12 spaces are available for competitors who must preregister at info@nwseaport.org (1st come, 1st served)
---
Back to Top of Seattle Events Calendar May 2013
---
Seattle Beer Week
May 9 - May 19
Various locations around Seattle
www.seattlebeerweek.com

A variety of events (approximately 100) around Seattle at various locations (around 45 different venues) to celebrate the region's beer culture. Events include special dinners, mini-beer festivals, tasting, tournaments, and more. Seattle area breweries will be well-represented.
---
Early Morning Bird Walk
Saturday, May 11
6:45am - 9:00am
$20 per adult; $10 per adult zoo members; 12 and under free; Reservations required
Woodland Park Zoo
N. 50th St. and Phinney Ave. N
A guided tour featuring the wild birds that live at Woodland Park Zoo and the birds that stay at the zoo temporarily while migrating. Learn all about the birds from zookeeper Eric Kowalczyk. Held in celebration of International Migratory Bird Day.
---
Pike Place Market Flower Festival
Saturday, May 11 and Sunday, May 12

The north end of the street is filled with flower farmers offering bouquets for sale.
Pike Place Market has the best flowers in Seattle!
---
Back to Top of Seattle Events Calendar May 2013
---
Seattle Metro Reptile Expo
Saturday, May 11
Saturday 10am - 5pm
$8 Adults; $4 (6-12yrs); Kids under 10 free
Renton Community Center, 1715 Maple Valley Hwy

A family event with thousands of reptiles, amphibians, chelonians, insects, and various live creatures on display and for sale. Events include education tables, reptile and amphibian adoption area, vendors, and live animal shows.
---
Leavenworth Spring Bird Fest
May 16 - May 19
Bird Fest Info
Leavenworth, Washington
Check out their website. If you are a birder, this is a week full of fun bird activities. Leavenworth is a Bavarian style village town about 118 miles east of Seattle just across Stephens Pass. They have lots of fun events throughout the year.
---
Seattle International Film Festival
May 16 - June 9
More info

SIFF presents 460 films from 75 countries at various venues around Seattle. The Opening Night Gala is May 16 at McCaw Hall. And that's only the beginning...
---
Things To Do in Seattle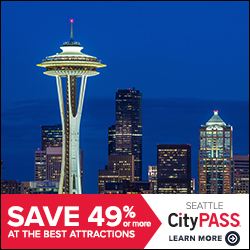 Space Needle
Pacific Science Center
Seattle Aquarium
Experience Music Project
Argosy Cruises Harbor Tour
Woodland Park Zoo OR The Museum of Flight
I recommend the Seattle CityPASS - it will save you 45% off these 6 attractions, plus you can skip the lines. You'll save money if you go to at least four.
---
Back to Top of Seattle Events Calendar May 2013
---
National Offshore One-Design Sailing Regatta
May 17 - May 19
Seattle Yacht Club, Corinthian Yacht Club
Shilshole Bay Marina, 7755 Seaview Ave. NW

Races featuring more than 200 sailboats from 20 to 70 feet in length guided by local sailors as well as some of the top racing stars. Racing area will be in Puget Sound, west and north of the Shilshole Marina.
---
Teatro ZinZanni's "Lucky in Love" Dinner Show
May 17 - September 8
Teatro ZinZanni, 222 Mercer St.
Mercer Street at 3rd Ave near Seattle Center
This dinner theater show features a blend of cirque, theater, cabaret and dance. Tickets include the show and a four-course meal.
Teatro ZinZanni discount tickets available at Goldstar.
---
Viking Fest - Poulsbo
May 17 - May 19
Front Street, Poulsbo

Carnival, parade, live entertainment, food and craft vendors, clogging, road race, Iron Chef Competition, Lutefisk Eating Contest, and Viking Village.
---
Back to Top of Seattle Events Calendar May 2013
---
A Glimpse of China - Chinese Culture and Arts Festival
Saturday, May 18
Center House, Seattle Center
Chinese cultural and arts festival featuring visual and performing arts, interactive activities, vendors, and more.
---
Lacey Spring Fun Fair
Saturday, May 18 and Sunday, May 19
Saturday, 10am-6pm; Sunday, 11am-5pm
Lacey Fair
St. Martin's University, 5300 Pacific Avenue SE, Lacey

Family fun with free Kidsworld activities, arts and crafts, entertainment and food.
---
Penn Cove Water Festival
Saturday, May 18
11am - 5pm
Coupeville Waterfront, Whidbey Island

Tribal canoe races, Native arts and crafts, storytelling, dance performances, art, food, exhibits, and children's activities.
---
Back to Top of Seattle Events Calendar May 2013
---
University District StreetFair - 42nd Annual
Saturday, May 21 from 10-7 and Sunday, May 22 from 10-6
University Way NE from Campus Parkway to NE 50th St.

The longest running street fair in the nation, the U District StreetFair attracts over 300 craft and food booths and over 50,000 people to the University District each year. In addition to the booths, two main stages will feature music, dance performances, comedy, costume contests, and more. A special children's area is set up with age appropriate activities as well.
---
Beat the Bridge - 29th Annual 8K Race
Sunday, May 19
Husky Stadium, 3800 Montlake Blvd.
This is a very popular road race to benefit the Juvenile Diabetes Research Foundation. The race starts at Husky Stadium and at some point the route crosses the Montlake Bridge which is a drawbridge. The bridge is raised sometime during the event and the goal is to cross the bridge before it raises, hence the name "Beat the Bridge". There is also a 1K Fun Run, a 4-mile Family Walk, and a Diaper Derby. For the full race-day schedule and more info, check out the website at www.beatthebridge.org.
---
Capital City Marathon
Sunday, May 19
Registration
Washington Street between Legion Way and Seventh Avenue, downtown Olympia

Marathon, half-marathon, and 5-mile runs.
---
Back to Top of Seattle Events Calendar May 2013
---
West Seattle 5K
Sunday, May 19
8:00am Day-of-race registration and packet pick-up
9:30am Race Begins
Registration Info

This race begins and ends at the Alki Bath House. Runners will run along Alki Avenue SW which runs right along the beach and water, with a gorgeous view.
---
Mt. Rainier Scenic Railroad
Operates Friday, Saturday, and Sunday
Memorial Day weekend through September 1st
Schedule and Registration

This is a scenic steam train ride through the foothills of Mt. Rainier. They also do special events such as BBQ rides, the Bunny Express at Easter, Mother's Day Express, and Father's Day BBQ.
---
Northwest Folklife Festival - 42nd Annual
Photo by EKSwitaj, on Flickr
May 24 - May 27
Seattle Center
This is the big one that kicks off summer. It's a festival of ethnic, folk, and traditional music, dance, art, and crafts as well as street performers such as jugglers, musicians, magicians, etc. Admission is free, but donations ($10/person, $20/family) are encouraged. See the website for all the details.
---
Coming into town for the Folklife Festival? Find a place to stay...
---
Back to Top of Seattle Events Calendar May 2013
---
Edmonds Jazz Connection
Saturday, May 25
9:00am - 5:00pm
Free
Big Bands at Edmonds Masonic Center, Dayton between 5th & 6th
Vocal Jazz at Edmonds Conference Center, corner of 4th & Bell
Jazz Combos at Edmonds Theater, Main between 4th & 5th

Hear 20 or more groups featuring talented students and professional musicians performing a variety of jazz from big band classics to modern vocal jazz.
---
Kitsap Harbor Festival
Saturday, May 25 and Sunday, May 26
Port Orchard and Bremerton downtown waterfronts
www.kitsapharborfestival.com

Waterfront festival featuring tall ships, farmers markets, classic car show, Seagull Calling, Taste of Kitsap, sailing regatta, live music,
and more.
---
Good Karma 5K
Sunday, May 26
9:00am
$25
Seward Park

Seattle's only choose your own charity race. Select from a list of ten charities when you register and a portion of your proceeds will go to that charity. The charity with the most participants running will also receive an additional bonus donation. Good Karma points can also be racked up by bringing a can of food for the Northwest Harvest food drive, donating your used shoes to Redeeming Soles, registering on the Bone Marrow Registry and by participating in the "thank you cards for troops" drive on race day. 5K run and 4K walk, chip timed, gear check, prizes for top runners, random door prizes, free event photos, food and drink.
---
Back to Top of Seattle Events Calendar May 2013
---
Staycation at the Chateau
Sunday, May 26
11:00am - 4:00pm
Free
Chateau Ste. Michelle Winery
14111 NE 145th St in Woodinville
Some of the most rare and collectable exotic automobiles will be on display. Some of Seattle best food trucks will be there including Dante's Inferno Dogs, Veraci Pizza, Marination Mobile, Now Make Me a Sandwich, and more. And of course, the Chateau's delicious wines.
---
7 Hills of Kirkland Bike Ride
Monday, May 27
7 Hills Website
Marina Park, 25 Lake Shore Plaza, Kirkland

Your choice of three scenic and challenging routes which all start and end at Marina Park in Kirkland. Food, support, and strawberry shortcake at the finish line.
---
Director's Choice - Pacific Northwest Ballet
May 31 - June 9
McCaw Hall
321 Mercer St, Seattle Center
Agon - Igor Stravinsky and George Balanchine
Diamonds - Peter Ilyich Tchaikovsky and George Balanchine
World Premiere - TBA and Christopher Wheeldon
Wow! Goldstar has half-price tickets to PNB for this show so definitely check there first!
---
Back to Top of Seattle Events Calendar May 2013
---
Edmonds Waterfront Festival - 26th Annual
May 31 - June 2
Friday 3pm - 10pm
Saturday 11am - 10pm
Sunday 11am - 7pm
Edmonds Waterfront
$3 admission charge; children under 12 free

The festival features live music and entertainment on stage, a 5K run, classic yachts on display, beer garden, and a fish hatchery with free fishing for children. Other children's activities include a climbing wall, inflatable rides, face painting, art projects, and more.
---
Half Price Tickets
Check Goldstar first for half-price tickets to theater, concerts, tours, comedy, sports, and more. Sign up for FREE and start saving money on fun things to do in Seattle.
---
Back to Top of Seattle Events Calendar May 2013
---