Seattle Events Calendar

May 2014
The Seattle Events Calendar May has lots of ideas for fun things to do.
The summer season officially gets underway with the Northwest Folklife Festival on Memorial Day Weekend. It's three days of music, dance, workshops, food, and more.
Also this month is the Spring Fair, the U District Street Fair, Beat the Bridge, and lots more.
---
Got an event we should know about? If you'd like to add it to our Seattle Events Calendar, please tell us about it here!
---
Get Half Price Tickets for Seattle Events
Little Shop of Horrors - ACT Theatre
In the Book Of - Taproot Theatre
The Suit - Seattle Repertory Theatre
Skagit Valley Tulip Festival Tour
TOTEM - Cirque du Soleil
Cavalia: "Odysseo"
Winery and Waterfall Tour
Lots more...
I recommend checking with Goldstar before you buy tickets to see if they are available for half-price. They offer tickets to theater, concerts, comedy, tours, Argosy cruises, sports, and lots more. Here's a sampling of this month's offers:
---
Drawn to Seattle: The Work of Seattle Sketcher Gabriel Campanario
December 21 - May 26
MOHAI
Lake Union Park, 860 Terry Ave N
Featuring sketches from the award-winning Seattle Times blog and weekly column, "Seattle Sketcher," this exhibit opens up the pages of Campanario's sketchbook to communicate the significant locations, events, and experiences that have filled his life in Seattle.
---
Fremont First Friday Art Walk
January 3 - December 5
First Friday of every month, 6pm - 9pm
Rain or shine!

---
Twisted Flicks
Last Thursday, Friday, and Saturday of the month at 8:00pm
Wing-It Productions
5510 University Way NE
Twisted Flicks is a combination of live improv and old "B" movies. A classic, cheesy "B" movie is shown on the full-size movie screen without its original soundtrack. The Flick team of professional improvisers sits in the front row and creates all new dialog and sound effects based on audience suggestions. Suitable for all ages.
---
Teatro ZinZanni's "On The Air"
January 31 - June 1
Teatro ZinZanni, 222 Mercer St.
Mercer Street at 3rd Ave near Seattle Center
Tune in as Teatro ZinZanni turns back the dial to the Golden Age of Radio with a variety of dazzling music, acrobatic cirque, and hilarious comedy!
Click here for discount tickets from Goldstar!
---
Back to Top of Seattle Events Calendar May 2014
---
---
Miro: The Experience of Seeing
February 13 - June 25
Seattle Art Museum, 1300 First Avenue
The exhibition brings together over 50 paintings, drawings and sculptures made in the period between 1963 and 1983.
---
Little Shop of Horrors
March 8 - June 15
5th Avenue Theatre
1308 5th Avenue
This musical comedy is based on the cult horror movie of the same name.

Check for half price tickets on Goldstar!
---
A Room With a View
April 15 - May 11
5th Avenue Theatre
1308 5th Avenue
A new musical based on the E.M. Forster novel that inspired the film.
Check with Goldstar first for half-price tickets!
---
Seattle Opera - The Tales of Hoffman
May 3 - May 17
McCaw Hall
321 Mercer St, Seattle Center
---
Back to Top of Seattle Events Calendar May 2014
---
Seattle Maritime Festival - Stories of the Sea Contest
Thursday, May 8
8:00pm - 10:30pm
Highliner Pub & Grill, Fishermen's Terminal, 3909 18th Avenue West

The 2014 Stories of the Sea competition draws fishers, sailors, and other folks as they present original stories, poems, and songs about their lives and experiences on the sea. This community event is fun to watch and is part of the Vigor Seattle Maritime Festival. Cash prizes are awarded to the top three finishers. Each story should be 10 minutes, and only 12 spaces are available for competitors who must preregister at info@nwseaport.org or at (206) 447-9800 (1st come, 1st served).
---
Early Morning Bird Walk
Saturday, May 10
6:45am - 9:00am
$20 per adult; $10 per adult zoo members; 12 and under free; Reservations required
Woodland Park Zoo
N. 50th St. and Phinney Ave. N
A guided tour featuring the wild birds that live at Woodland Park Zoo and the birds that stay at the zoo temporarily while migrating. Learn all about the birds from zookeeper Eric Kowalczyk. Held in celebration of International Migratory Bird Day.
---
Things To Do in Seattle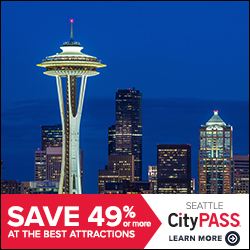 Space Needle
Pacific Science Center
Seattle Aquarium
Experience Music Project
Argosy Cruises Harbor Tour
Woodland Park Zoo OR The Museum of Flight
I recommend the Seattle CityPASS - it will save you 45% off these 6 attractions, plus you can skip the lines. You'll save money if you go to at least four.
---
Spirit of West Africa
Saturday, May 10
Seattle Center
Enjoy live performances, visual arts, hands-on activities, foods, games, and a marketplace. This lively and colorful festival features traditional dance and music as well as hip hop, jazz and rock with world-class local and touring artists from Senegal, Guinea, Benin, Mali Ghana, Liberia, Nigeria, and Cameroon.
---
A Glimpse of China - Chinese Culture and Arts Festival
Saturday, May 17
Center House, Seattle Center
Chinese cultural and arts festival featuring visual and performing arts, interactive activities, vendors, and more.
---
Back to Top of Seattle Events Calendar May 2014
---
Beat the Bridge - 29th Annual 8K Race
Sunday, May 18
Husky Stadium, 3800 Montlake Blvd.
This is a very popular road race to benefit the Juvenile Diabetes Research Foundation. The race starts at Husky Stadium and at some point the route crosses the Montlake Bridge which is a drawbridge. The bridge is raised sometime during the event and the goal is to cross the bridge before it raises, hence the name "Beat the Bridge". There is also a 1K Fun Run, a 4-mile Family Walk, and a Diaper Derby. For the full race-day schedule and more info, check out the website at www.beatthebridge.org.
---
Capital City Marathon
Sunday, May 18
Registration
Washington Street between Legion Way and Seventh Avenue, downtown Olympia

Marathon, half-marathon, and 5-mile runs.
---
Stars on Ice 2014 Tour
Sunday, May 18
4:00pm
KeyArena, Seattle Center
---
Northwest Folklife Festival - 42nd Annual
Photo by EKSwitaj, on Flickr
May 23 - May 26
Seattle Center
This is the big one that kicks off summer. It's a festival of ethnic, folk, and traditional music, dance, art, and crafts as well as street performers such as jugglers, musicians, magicians, etc. Admission is free, but donations ($10/person, $20/family) are encouraged.
---
Coming into town for the Folklife Festival? Find a place to stay...
---
Back to Top of Seattle Events Calendar May 2014
---
Edmonds Jazz Connection
Saturday, May 24
9:00am - 5:00pm
Free
Big Bands at Edmonds Masonic Center, Dayton between 5th & 6th
Vocal Jazz at Edmonds Conference Center, corner of 4th & Bell
Jazz Combos at Edmonds Theater, Main between 4th & 5th

Hear 20 or more groups featuring talented students and professional musicians performing a variety of jazz from big band classics to modern vocal jazz.
---
Good Karma 5K
Sunday, May 25
9:00am
$30; $35 after April 1; $40 day of race
Seward Park

Seattle's only choose your own charity race. Select from a list of ten charities when you register and a portion of your proceeds will go to that charity. The charity with the most participants running will also receive an additional bonus donation. Good Karma points can also be racked up by bringing a can of food for the Northwest Harvest food drive, donating your used shoes to Redeeming Soles, registering on the Bone Marrow Registry and by participating in the "thank you cards for troops" drive on race day. 5K run and 4K walk, chip timed, gear check, prizes for top runners, random door prizes, free event photos, food and drink.
---
7 Hills of Kirkland Bike Ride
Monday, May 26
7 Hills Website
Marina Park, 25 Lake Shore Plaza, Kirkland

Your choice of three scenic and challenging routes which all start and end at Marina Park in Kirkland. Food, support, and strawberry shortcake at the finish line.
---
Giselle - Pacific Northwest Ballet
May 30 - June 8
McCaw Hall
321 Mercer St, Seattle Center
---
Back to Top of Seattle Events Calendar May 2014
---
Edmonds Waterfront Festival - 26th Annual
May 30 - June 1
Friday 3pm - 10pm
Saturday 11am - 10pm
Sunday 11am - 7pm
Edmonds Waterfront
$3 admission charge; children under 12 free

The festival features live music and entertainment on stage, a 5K run, classic yachts on display, beer garden, and a fish hatchery with free fishing for children. Other children's activities include a climbing wall, inflatable rides, face painting, art projects, and more.
---
Lionel Richie
Friday, May 30
7:30pm
KeyArena, Seattle Center
As of April 19, Goldstar had half price tickets for Lionel Richie so check there first.
---
Half Price Tickets
Check Goldstar first for half-price tickets to theater, concerts, tours, comedy, sports, and more. Sign up for FREE and start saving money on fun things to do in Seattle.
---
Back to Top of Seattle Events Calendar May 2014
---