Seattle Events Calendar

November 2014
The Seattle Events Calendar for November 2014 means it's time for Thanksgiving and the start of the holiday season.
Enjoy the last week of the Earshot Jazz Festival, a Seahawks football game, or a little Shakespeare. Do be sure to make it to the Macy's Holiday Parade downtown. Other holiday traditions that start in November are the Leavenworth Holiday Lights and ACT Theatre's A Christmas Carol. Get tickets early for the best seats!
---
Half Price Tickets
Goldstar offers great half-price tickets. Sign up is FREE and you can save lots of money on fun things to do in Seattle like theater, concerts, tours, comedy, sports, and more.
---
Save Big on Things To Do in Seattle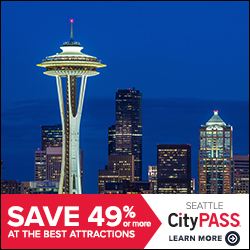 Space Needle
Pacific Science Center
Seattle Aquarium
Experience Music Project
Argosy Cruises Harbor Tour
Woodland Park Zoo OR The Museum of Flight
I recommend the Seattle CityPASS - it will save you 45% off these 6 attractions, plus you can skip the lines. You'll save money if you go to at least four.
---
Fremont First Friday Art Walk
January 3 - December 5
First Friday of every month, 6pm - 9pm
Rain or shine!

---
Twisted Flicks
Last Thursday, Friday, and Saturday of the month at 8:00pm
Wing-It Productions
5510 University Way NE
Twisted Flicks is a combination of live improv and old "B" movies. A classic, cheesy "B" movie is shown on the full-size movie screen without its original soundtrack. The Flick team of professional improvisers sits in the front row and creates all new dialog and sound effects based on audience suggestions. Suitable for all ages.
---
Nightmare on 9 Haunted House
October 2 - November 1
Thursday and Sunday, 7pm - 10pm
Friday and Saturday 7pm - MIdnight
$16 Regular Admission; $26 VIP Speed Line
9010 Marsh Road, Snohomish

Recommended ages 12 and up.
---
Earshot Jazz Festival
October 9 - November 7
Tickets go on sale in early September.
www.earshot.org
Venues in and around Seattle.

Proclaimed as "one of the best festivals in Seattle" by the Seattle Times, the Earshot Jazz Festival brings in jazz musicians from around the world as well as renowned local area artists and includes concerts by some of our own award-winning high school jazz groups.
---
Back to Top of Seattle Events Calendar November 2014
---
Garden D'Lights - Bellevue Botanical Gardens
October 29 - January 3
4:30pm-9:30pm
$5, ages 10 and younger free
Tickets go on sale Oct. 15 at www.gardendlights.org
12001 Main St., Bellevue

Avoid long lines by purchasing tickets online ahead of time. Free nights are Nov. 26, 27, 28, and 29, and Dec. 3, 4, 5, and 6 - first come, first served.
---
Oprah's The Life You Want Weekend
Friday, November 7 and Saturday, November 8
KeyArena, Seattle Center
---
Fleetwood Mac - "On With The Show" Tour
Thursday, November 20
7:00pm
Tacoma Dome
2727 E. D St, Tacoma
Fleetwood Mac Tickets
---
Festival of Trees
November 22 - December 2
Fairmont Olympic Hotel, 411 University St.
A display of beautifully decorated Christmas trees, each with its own theme and style, and each dedicated to a patient at Seattle Children's Hospital.
---
St. Jude Give Thanks. Walk.
Saturday, November 22
Check-in starts at 7:00am; Walk starts at 8:30am
Registration is free
Next 50 Plaza, Seattle Center

St. Jude supporters in 80 communities across the country will join together as teams and individuals to participate in this exciting family-friendly 5K walk to help raise money to support the children of St. Jude Children's Research Hospital. Walk will be indoors and strollers are welcome! Visit www.givethankswalk.org for more info.
---
---
Back to Top of Seattle Events Calendar November 2014
---
Trans-Siberian Orchestra - The Christmas Attic
Saturday, November 22
KeyArena, Seattle Center
---
Turkey Toss
Saturday, November 22
10am - 2pm
Free with zoo admission or membership
Woodland Park Zoo
N. 50th St. and Phinney Ave. N
Enjoy watching the animals dive into their own turkey feast.
---
22nd Annual Gingerbread Village - "Jingle All The Way"
November 25 - January 5
Open for viewing 24 hours a day, 7 days a week
Sheraton Seattle Hotel, 1400 Sixth Avenue
Local architecture firms team up with the Sheraton Seattle culinary team to design, bake, and build amazing gingerbread creations. Vote for your favorite.
---
Shakespeare's Globe Theatre: King Lear
Tuesday, November 25 and Wednesday, November 26
7:30pm; Wednesday matinee at 2pm
Moore Theatre, 1932 Second Avenue
---
A Christmas Carol - ACT Theatre
Photo: Chris Bennion
November 28 - December 28
ACT Theatre, 700 Union St.
This classic story of Ebenezer Scrooge, hope, and redemption, is one of Seattle's favorite holiday traditions and definitely a must-see. Suitable for ages 5 and up. Tickets sell out, so buy yours early.
Discount tickets for A Christmas Carol available for some performances!
---
Back to Top of Seattle Events Calendar November 2014
---
Christmas Ships Festival
November 28 - December 23
Schedule and Info

The Argosy Christmas Ships Festival has been a holiday tradition in Seattle for over 60 years. Each night the Christmas Ship sails to different Puget Sound waterfront communities. On board, choirs sing 20-minute performances broadcast over a speaker system. On shore, people gather around bonfires to watch the flotilla arrive. You can sail on board the Christmas Ship or one of the Parade ships that follow, join a group on shore, or add lights to your own boat and become part of the floating parade.
---
Macy's Holiday Parade and Tree Lighting Celebration
Friday, November 28
Parade begins at 9:00apm
Tree Lighting at 5:00pm
Downtown and Westlake Center

This is a Seattle holiday tradition and one of the highlights of the season. The Holiday Parade starts on 7th Ave, marches down Pine Street and University Street, then heads north to end at Macy's across from Westlake Center. Decorations are up, and the Holiday Carousel is operating. The official lighting of Westlake Center's Holiday Tree and Macy's Star is at 5pm. The evening ends with a fireworks display. It's one of the most fun days of the year to be downtown. We always went early so we could get a hot latte and find a good place to stand along the parade route. My kids loved it!
---
Nutcracker - Pacific Northwest Ballet
Love It Again, For The Last Time
November 28 - December 28
Pacific Northwest Ballet
McCaw Hall, 321 Mercer St, Seattle Center
The world's most recognized and celebrated production of Nutcracker with choreography by Kent Stowell and performed by Pacific Northwest Ballet. The sets and costumes were designed by children's author Maurice Sendak and they are amazing. This is a Seattle holiday tradition.
After 31 years, this will be the final season of PNB's beloved Nutcracker. Do not miss it!!
---
Wildlights at Woodland Park Zoo
November 28 - January 4
5:30pm - 8:30pm (Closed on Dec. 24 & 25)
Adults: $9.50
Children ages 3-12: $6.50
Toddlers 2 and under: Free
N. 50th St. and Phinney Ave. N

Wildlights features wild animals and places created with thousands of sparkling LED lights. There willl be indoor and outdoor displays, food, entertainment, and two real live visiting reindeer, Lucky and Christi . The zoo's historic carousel will be open for rides.
---
Santa Train - Northwest Railway Museum
Courtesy Northwest Railway Museum
Nov. 29 & 30; Dec. 6 & 7; Dec. 13 & 14; Dec. 19 & 20
$20 per person and a ticket is required for each person 2 years of age and older.
North Bend Depot, 205 McClellan Street, North Bend

Board the train at the North Bend Depot for a 20-minute, 3.5-mile trip to Snoqualmie. There visitors will enter the historic Snoqualmie Depot for a visit with Santa Claus. Children will receive a small gift from Santa. Then enter the restored railway kitchen car for coffee, hot chocolate, and cookies. There will be a little time to visit local shops and attractions before boarding the train for the return trip to North Bend. Visit www.trainmuseum.org for more info.
---
Back to Top of Seattle Events Calendar November 2014
---
Seattle Kids Marathon
Saturday, November 29
10:00am Race start
Seattle Center, Staging in Memorial Stadium
$20
Register at www.seattlemarathon.org

---
Seattle Marathon 5K
Saturday, November 29
8:30am
Seattle Center
Register at www.seattlemarathon.org

---
Seattle Marathon
Sunday, November 30
Seattle Center – 5th Avenue between Harrison and Mercer Streets, east of the Experience Music Project
$85 - $145 Marathon; $75 - $135 Half-Marathon
Preregister at www.seattlemarathon.org

Price depends on the date of registration, so the earlier you register the cheaper it is. No race-day registration.
---
Half Price Tickets for Seattle Events
Goldstar offers half-price tickets to theater, concerts, tours, comedy, sports, and more. Sign up for FREE and start saving money on fun things to do in Seattle. It's one of my favorite deals!
---
Share your Seattle Event!
Please tell us about it - date, time, exact location, cost, full description, how to get tickets, and upload one or more photos.