Seattle Festivals and Fairs in 2013
Seattle festivals and fairs come in all sizes and types, dedicated to just about everything you can imagine.
Art, wine, tomatoes, beer, blackberries and strawberries, we've got festivals to celebrate them all. Sometimes it's just an excuse to get outside and enjoy the summer weather!
I've taken all the Seattle festivals and fairs from the events calendar and listed them by month. It's just a different way of organizing the information to help you find what you're looking for quickly. Most take place every year, but the specific dates may vary a bit from year to year.
If you'd like to add a festival to our Seattle Festivals and Fairs page, tell us about it here!
Seattle Festivals in March
Moisture Festival: Comedy - Variete - Vaudeville
The Aerialistas by John Cornicello
March 21 - April 14
Hale's Palladium
4301 Leary Way NW
Presented as a variety show, each act or artist performs his or her routine within a 3-15 minute time slot while being accompanied by a live show band. Acts include aerialists, jugglers, dancers, comedians, rope acts, bubble acts, clowns, acrobats, can can girls, drill teams, musical numbers, and more.


---
Spring Best of the Northwest
March 23 & 24
10am - 6pm
Smith Cove Cruise Terminal, Pier 91
www.nwartalliance.com
Spring art and craft festival with 150 local and regional artists displaying their art.
Seattle Festivals in April
Skagit Valley Tulip Festival
April 1 - April 30
Mt. Vernon, 60 miles north of Seattle
List of Events

A yearly event welcoming the arrival of spring, the Tulip Festival offers activities for all ages including a 2-mile and 5-mile run, bike rides, arts and crafts, a battle of the bands, parade, basketball tournament, quilt show and walk, antiques safari, art fair, salmon barbecue, home tour, wine festival, Deception Pass boat tours, and lots, lots more. But even if all those activities weren't available, the drive is well worth it just to see the amazing fields of tulips! If you've never seen it, don't miss it this year!
---
Anacortes Spring Wine Festival
Saturday, April 13
12:00pm - 4:30pm
Port of Anacortes historic warehouse, about 85 miles north of Seattle

A Skagit Valley Tulip Festival event, featuring 24 wineries and 6 restaurants.
---
Cherry Blossom and Japanese Cultural Festival
Apr. 26 - 28
Seattle Center House, Fisher Pavilion
Taiko drums, ikebana flowers, Japanese food, tea ceremony demonstrations, artwork, and more.
Back to Top of Seattle Festivals and Fairs
Seattle Festivals in May
Pike Place Market Flower Festival
May 12 - 13
Mother's Day Weekend
The north end of the street is filled with flower farmers offering bouquets for sale. Pike Place Market has the best flowers in Seattle!
---
Seattle Maritime Festival
May
Downtown Seattle Waterfront
World's largest tugboat race, Chowder Cook-Off, free harbor tours, vessel tours, boat building competition, kid's events, and lots more.
---
Viking Fest - Poulsbo
May 17, 4pm-10pm
May 18, 7am-10pm
May 19, 7am-5:30pm
Front Street, Poulsbo
www.vikingfest.org
Carnival, parade, live entertainment, food and craft vendors, clogging, road race, Iron Chef Competition, Lutefisk Eating Contest, and Viking Village. Wristbands permitting unlimited rides at the carnival are available.
---
Annual Boater's Fair
Check back for exact dates.
370 Brien Dr. SE
Bainbridge Island
Get ready for a fun, safe boating season. See a USCG Helicopter Water Rescue Demonstration, USCG Safe Boats, Fire and Police Department Boats. Bring your children for the Kids'NWater safety training, learn how to radio for help, know what to do if you fall in the water, check out your nautical and knot tying skills, sign up for a Boater Safety Course or a Vessel Safety Check. Find out what it takes to get your mandatory Washington State Boater Education Card.
---
Vashon-Maury Island Low Tide Festival
Free
Point Robinson Lighthouse, Southwest Point Robinson Road, Vashon Island
Take advantage of one of the lowest tides of the spring! Beach naturalists will take visitors out to low water areas to observe creatures only seen at very low tides. There will also be food and tours of the Point Robinson lighthouse.
Back to Top of Seattle Festivals and Fairs
---
University District StreetFair - 43st Annual
Saturday, May 18 from 10-7 and Sunday, May 19 from 10-6
University Way NE from Campus Parkway to NE 50th St.
www.udistrictstreetfair.org
The longest running street fair in the nation, the U District StreetFair attracts over 300 craft and food booths and over 50,000 people to the University District each year. In addition to the booths, two main stages will feature music, dance performances, comedy, costume contests, and more. A special children's area is set up with age appropriate activities as well.
---
---
Lacey Spring Fun Fair
May 18 - 19
10am to 7pm Saturday
11am to 5pm Sunday
St. Martin's University
5300 Pacific Avenue SE, Lacey
www.laceyspringfunfair.com
Family fun with free Kidsworld activities, arts and crafts, entertainment and food.
---
Seattle International Film Festival
May 16 - June 9
Box office opens May 3rd
www.siff.net
Hundreds of films will be screened over the weeks at various venues in Seattle.
Back to Top of Seattle Festivals and Fairs
---
A Glimpse of China
May 18
Center House, Seattle Center
Chinese cultural and arts festival featuring visual and performing arts, interactive activities, vendors, and more.
---
Penn Cove Water Festival
May 18, 11am - 6pm
Coupeville Waterfront, Whidbey Island
www.penncovewaterfestival.com
Tribal canoe races, Native arts and crafts, storytelling, dance performances, art, food, exhibits, and children's activities.
---
Kitsap Harbor Festival
May 25 - 26
Port Orchard and Bremerton downtown waterfronts
www.kitsapharborfestival.com
Waterfront festival featuring tall ships, farmers markets, classic car show, Seagull Calling, Taste of Kitsap, sailing regatta, live music, and more.
---
Northwest Folklife Festival - 40th Annual
Photo by EKSwitaj, on Flickr
May 24 - 27
Seattle Center
www.nwfolklife.org
This is the big one that kicks off summer. It's a festival of ethnic, folk, and traditional music, dance, art, and crafts as well as street performers such as jugglers, musicians, magicians, etc. Admission is free, but donations ($10/person, $20/family) are encouraged. See the website for all the details.
Back to Top of Seattle Festivals and Fairs
Seattle Festivals in June
Anacortes Waterfront Festival
June 1 - 2, 10am-6pm
Cap Sante Boat Haven parking lot
1019 Q Avenue, Anacortes Waterfront
Free boat rides, boatbuilding demonstration, waterfront walking tours, live entertainment, kayak races, kids activities.
---
Bastyr's Herb and Food Fair
June
Free
Bastyr University, 14500 Juanita Dr. NE, Kenmore
Cooking demonstrations, herbs, nutrition speakers, art and crafts for children, live music, garden tours.
---
Edmonds Waterfront Festival - 24rd Annual
June
Edmonds Waterfront
www.edmondswaterfrontfestival.com
Classic yachts and two tall sailing ships, the Hawaiian Chieftain and the Lady Washington will be on display. On Saturday and Sunday at 2pm they will conduct a 3 hour Battle Sails featuring booming cannons and close-quarters maneuvers. The festival also features live music on stage, a 5K run, fish hatchery with free fishing for children. Children's activities including a climbing wall, inflatable rides, face painting, art projects, and more.
---
Pagdiriwang Philippine Festival
June 8 - 9
Seattle Center House
Music, dance, food, children's activities, drill teams, rock bands and exhibits celebrating the arts and culture of the Philippines.
---
Beacon Hill Festival
June 1
Jefferson Community Center
3801 Beacon Ave S
Carnival games, bounce toys, live entertainment and vendors.
---
Normandy Park Arts Festival
June 1 - 2
Free
Normandy Park City Hall, 801 SW 174th St, Normandy Park
Entertainment, art market vendors, children's crafts and activities, juried arts show.
Back to Top of Seattle Festivals and Fairs
---
Tastin' N' Racin' Festival - 16th Anniversary
June 8 - 9
Saturday 9:30am-7:00pm
Sunday 9:00am-6:00pm
$5-$10
MGD Hydro Happy Hour: Friday, June 8, 3pm-8pm, Free Admission
Lake Sammamish State Park
20606 SE 56th St, Issaquah
www.tastinracin.com
Hydroplane and personal watercraft races, classic car show, food vendors and kids activities.
---
Puyallup Meeker Days
June 21, Noon-9pm
June 22, 10am-9pm
June 23, 10am-5pm
Free
Downtown Puyallup
Street Festival featuring beer garden, live entertainment stages, farmers market, Kidzone, food court, craft vendors.
---
---
Washington Brewers Festival
June
Marymoor Park
6046 W Lake Sammamish Parkway NE, Redmond
Festival for all ages, featuring more than 200 craft beers and family entertainment. Rain or shine.
---
Edmonds Arts Festival and Street Fair
June 14, 11am-9pm
June 15, 10am-8pm
June 16, 10am-6pm
Frances Anderson Center, 700 Main St., Edmonds
Art exhibits, food court, kids activities, performing arts, storytellers, wine bar and bistro, and on and on. This is one of the Pacific Northwest's oldest and largest arts festivals. In 2009 this Seattle festival was voted "Best Street Fair in Western Washington" by Evening Magazine.
Back to Top of Seattle Festivals and Fairs
---
Iranian Festival
June 23
Center House, Seattle Center
Food, music and dance performances, Rumi poetry.
---
Fremont Fair and Solstice Parade - 39th Annual
June
The Solstice Parade takes place on Saturday at noon
North 34th St. and Fremont Avenue North
Shop, eat, drink, enjoy craft and art booths, street performers, local bands, decorated art cars, the Solstice Parade, and more.
---
Seattle Waterfront Classic Weekend
June
Seattle Waterfront, Pier 66, and the Bell Harbor Marina
Free
Classic Yachts
Classic Cars
Hydroplanes
Classic Tunes
Special Waterfront Offers
---
Kent International Festival
June 16, 10am - 6pm
Town Square Plaza Park
Smith Street and Second Avenue, Kent
Ethnic music, dance, arts and crafts vendors, food.
---
Burien Strawberry and Arts Festival
June 22
Burien Town Square
SW 152nd St. and SW 5th Ave.
Kids activities, skateboard competition, 5K Run, pancake breakfast, performers, artists, food, music, dance, and more.
Back to Top of Seattle Festivals and Fairs
---
Auburn Kids Day
June 21, 11am-4pm
Les Gove Park, 11th St. and Auburn Way S, Auburn
Inflatable rides, arts and crafts, face painting miniature golf, food and lots more.
---
SeaTac International Festival
June 29, 11am-6pm
June 30, 10am-8pm
Angle Lake Park
19408 International Blvd, SeaTac
Ethnic and cultural music and entertainment featuring local performers.
---
Bellevue Strawberry Festival
June 22 - 23
Free
Crossroads International Park
16000 NE 10th St., Bellevue
www.bellevuestrawberryfestival.org
Fresh strawberries, games, entertainment and agricultural displays.
---
---
LiveARTS Bothell Art Festival
June
Free
Cascadia Community College
18325 Campus Way NE, Bothell
www.liveartsbothell.org
Festival featuring a juried art exhibit, entertainment, children's activities, and over 45 artisan booths.
---
Shoreline Arts Festival
June 29 - 30
Free
Shoreline Conference Center
18560 First Ave NE, Shoreline
www.shorelinearts.net
LIve entertainment, juried art show, arts and crafts, food.
---
Back to Top of Seattle Festivals and Fairs
---
Taste of Tacoma - 25th Annual
June 28 - 29, 11am-9pm
June 30, 11am-8pm
Free
Point Defiance Park
5400 N Pearl St., Tacoma
Restaurants and food companies, live entertainment, art and craft vendors, wine tasting, and affordable family fun!
---
Greenwood Car Show
Saturday, June 29
8am - 4pm (gate opens at 6:30am)
Greenwood Avenue from North 67th to 90th Streets
This is the largest classic car show in Seattle and spans over 20 blocks of Greenwood Avenue North. In addition to the classic cars, there are live bands, a Kids Zone, a DJ, and dozens of food and retail vendors.
---
Lakewood SummerFEST
June 13 - 14
Free
Fort Steilacoom Park
8714 87th Ave SW, Lakewood
Festival features the Army Strong Fitness Expo, sports clinics, live entertainment, 5K run, car show and more.
---
Festival Sundiata
June 15 - 16
Center House, Fisher Pavilion, Seattle Center
A celebration of African-American art, entertainment and culture.
Back to Top of Seattle Festivals and Fairs
Seattle Festivals in July
Seattle International Beerfest
July 5 - 6, Noon-10pm
July 7, Noon-9pm
Mural Amphitheater, Seattle Center
www.seattlebeerfest.com
Beer garden, live music, pub games, food, beer tastes, and more than 150 world-class beers from more than 15 countries for your tasting pleasure!
---
Lake Union Wooden Boat Festival
July
10am - 6pm
Free, suggested donation $5/person, $10/family
Center for Wooden Boats
1010 Valley Street
www.cwb.org
There will be live music, kids activities, toy boat building, treasure hunt, demonstrations such as celestial navigation, and classic wooden vessels visiting from all over the area. Watch teams build a boat in 24 hours, then launch and race them on Sunday. Take a ride on Lake Union by sail, row, paddle, steam, electric or power boat - your choice! Sign up early because boats fill up quickly! The website warns that parking will be terrible, so please use alternate transportation if possible.
---
Half Price Tickets for Seattle Events
Before you buy tickets, I recommend checking first with Goldstar to see if they are available for half-price. They offer tickets to theater, concerts, comedy, tours, Argosy cruises, sports, and lots more. It's my favorite Seattle deal!
---
Kent Cornucopia Days - 40th Annual
July
Downtown Kent, Fourth Avenue between Saar Street and James Street
www.kcdays.com
Nationally recognized and award-winning summer family festival in Kent, just south of Seattle. The street fair is huge - over 600 vendors from around the coutry! Other main events include the farmers market, fine crafts market, Dragon Boat Races, a soccer tournament, 5K fun run, King County Jaguars semi-pro football game, skateboard and inline skate tournaments, Miss Cornucopia Scholarship Pageant, 4th of July Splash, carnival and midway, grand parade, children's play area, and fine art show and exhibit. See the website for details on times and locations of specific events.
---
Redmond Derby Days
July
Redmond City Hall Campus
15670 NE 85th St.
Music, kids' activities, food booths, carnival, parade, bike race, beer and wine gardens, and fireworks.
---
West Seattle Summer Fest
July
West Seattle Junction
4750 California Ave. SW
West Seattle, just across the water from downtown Seattle, via the West Seattle Bridge
www.westseattlefestival.com
Crafts, food vendors, live music and stage performers, roving sidewalk performers, kids activities, Saturday night street dance, and the pirates landing.
Back to Top of Seattle Festivals and Fairs
---
Wallingford Seafair Kiddies Parade and Festival
July
Parade begins forming at 9:30am; Marching starts at 11am (N 45th St.)
Street Fair: 10am - ? (Wallingford Ave between N 43rd and N 45th)
The parade includes floats, marching bands, dancers, pirates, fire trucks, and more. Live music, food, crafts, kids activities and rides at the Street Fair.
---
Mercer Island Summer Celebration
July
Mercerdale Park
77th SE and SE 32nd, Mercer Island
Theme this year is "Renaissance Revelry" with jousting knights, sword fights, Shakespeare performances, parade, youth basketball tournament, classic car show, street fair, children's zone, juried arts and crafts booths, live entertainment, boat rides, and fireworks display.
---
Art by the Bay - Stanwood-Camano Festival of Art and Music
July
Stanwood-Camano Community Fairgrounds
6431 Pioneer Highway
www.stanwoodarts.com
Live music and fine arts festival featuring 100 juried artists and craftspeople from around the Northwest, plants and garden art, and food.
---
Ballard SeafoodFest
July
Market Street and Ballard Avenue
www.seafoodfest.org
Live music, kids entertainment, beer and wine gardens, and seafood of all kinds.
Back to Top of Seattle Festivals and Fairs
---
Wedgwood Art Festival
July
Free
Corner of 35th Avenue NE and NE 80th St.
Family-friendly, with art activities for kids and neighborhood artists' original arts and crafts.
---
Mill Creek Festival and Street Fair
July
Mill Creek Town Center
153rd St. SW and Main Street, Mill Creek
Classic car and motorcycle shows, entertainment, food, arts and crafts booths, children's activities, "Pet Plaza" featuring Dock Dogs.
---
Find a place to stay...
---
Chinatown-International District Summer Festival - Dragon Fest
July 13 - 14 (second weekend in July)
Hing Hay Park
411 Maynard Ave. S
www.cidbia.org
Stage entertainment, food booths, family activities, Asian-inspired arts and crafts, karaoke competition, Children's Corner, and over 130 vendor booths.
---
Pioneer Square Fire Festival
July
10am - 5pm
Celebrate the anniversary of the Great Seattle Fire with antique fire engines, vintage police cars, panning for gold, kids activities, and the Seattle Fire Fighters Pipes and Drums.
---
White Center Jubilee Days
July
16th Avenue SW between SW Roxbury and SW 100th Streets
www.jubileedays.org
Live music, carnival, children's entertainment, food booths, parade, fireworkds.
---
Seafair Indian Days Pow Wow
July
Daybreak Star Indian Cultural Center in Discovery Park
The Pow Wow features 400 - 600 dancers in full costume, 25 drum groups, and 10,000 spectators. There will also be more than 60 vendors featuring Native American arts and crafts including jewelry, carvings, and beadwork.
---
Kirkland Uncorked
July
$20-$25
Marina Park
25 Lakeshore Plaza
www.kirklanduncorked.com
A summer celebration featuring Washington wines, fine food, art, and music on the beautiful shores of Lake Washington.
Back to Top of Seattle Festivals and Fairs
---
Bite of Seattle
July 19 - 20, 11am-9pm
July 21, 11am-8pm
Free admission
Seattle Center
www.biteofseattle.com
Arts and crafts vendors, wine tasting, live music, comedy club, beer garden, and the food, featuring more than 60 restaurants and 30 food product companies.
---
Vashon Island Strawberry Festival
July
Arts and crafts, food, music, carnival rides, Grand Parade (Saturday at 11am), family activities, Tom Stewart Classic Car Parade (Sunday at noon), and more.
---
Mukilteo Waterfront Art Festival
July
Free
Mukilteo Lighthouse Park
609 Front St., Mukilteo
Juried art festival featuring paintings, pottery, jewelry, glass, food booths and music.
---
Save Money on Things To Do in Seattle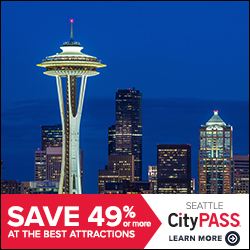 Space Needle
Pacific Science Center
Seattle Aquarium
Experience Music Project
Argosy Cruises Harbor Tour
Woodland Park Zoo OR The Museum of Flight
I recommend the Seattle CityPASS - it will save you 45% off these 6 attractions, plus you can skip the lines. You'll save money if you go to at least four.
---
San Juan Island Lavender Festival
July
Free
Pelindaba Lavender Farm
33 Hawthorne Lane, San Juan Island
www.pelindabalavender.com
Lavender farm tours, cooking demonstrations, music, craft workshops, picnics in the lavender fields.
Back to Top of Seattle Festivals and Fairs
---
Seattle Bon Odori
July
Seattle Buddhist Temple, 1427 S Main St.
Japanese cultural celebration with traditional folk dancing, food, ikebana flower arrangements, taiko drums and more.
---
Swingin' Summer Eve
July
5:30pm
Free
Cromwell Park, N 179th St and Meridian Avenue N
Annual midsummer festival with food, music, used-book sale, and children's activities.
---
Renton River Days
July
Liberty Park between Bronson Way N and Houser Way N
www.rentonriverdays.org
Kids activities, arts and crafts, Art Market, Nibble of Renton, quilt show, recreation, stage entertainment and food.
Back to Top of Seattle Festivals and Fairs
---
Capitol Hill Block Party
July
$23-$28
Capitol Hill, 11th Avenue and E Pine St.
www.capitolhillblockparty.com
2 days, 3 stages, 50+ local and national bands, food vendors and more.
---
Enumclaw Street Fair
July
Downtown Enumclaw, Cole Street and Initial Avenue
Live entertainment, children's activities, pony rides, arts and crafts, juried art show, 5K run, farmer's market and more.
---
Bellevue Arts Museum ArtsFair
July 26 & 27, 9:30am-9:30pm
July 28, 9:30am-6pm
Free
Bellevue Square at NE 8th St. and Bellevue Way
www.bellevuewarts.org
This is the largest juried arts show in the Pacific Northwest with 325 juried exhibitors featuring handmade arts and crafts. Drawing/pastels, fiber, furniture, jewelry, metal work, glass, painting, photography, sculpture, and lots more.
---
Bellevue Festival of the Arts
July 26 & 27, 10am-8pm
July 28, 10am-6pm
Cost Plus World Market parking lot, 10300 NE 8th St., Bellevue
Takes place across NE 8th St. from the Bellevue Arts Museum ArtsFair on the same weekend.
---
Sixth Street Fair
July 26 & 27, 10am-8pm
July 28, 10am-6pm
NE Sixth St at 106th Ave NE, Bellevue
Sculpture, jewelry, home decor, fabrics, wood and glass work by more than 140 artists, live music, kids activities, food vendors and more.
Back to Top of Seattle Festivals and Fairs
---
Alki Art Fair
July 27 - 28
Alki Beach, West Seattle
Juried art fair, live music, food vendors and children's art.
---
Camlann Medieval Village Summer Festivals
July 28 - Aug. 25, Saturdays and Sundays, 11:30am-6pm
$6-$10
Camlann Medieval Village
10320 Kelly Road NE, Carnation
www.camlann.org
Camlann Village is a living-history medieval-style village with crafts, blacksmith, 14th century music, archery, combat by knights in armor, horse rides, games, craft vendors and demonstrations, puppet show, medieval clothing rental, food and more.
---
Hispanic Seafair Festival
July
Free
Mural Amphitheatre, Seattle Center
Art exhibits, live music, food, craft booths, children's activities.
---
Pike Place Market Fruit Festival
Free
Pike Place Market
Chef demos, fruit sampling, kids crafts, a pie eating contest and more.
Back to Top of Seattle Festivals and Fairs
Seattle Festivals in August
Magnolia Summerfest and Art Show
August
Parade
Smith St. between 32nd and 34th; 33rd between Smith and Wheeler
Craft, art, and food booths, juried art show, inflatables, train rides, stage entertainment, pony rides, beer garden, outdoor movie on Saturday night, children's and Grand Parade.
---
Lake City Pioneer Days Festival
August
Friday, Noon - 7pm
Saturday, 10am - 9pm (or end of parade)
Parades: July 4, 5pm (Kid's parade) and 7pm (Grand Parade)
125th St. from Lake City Way to 26th Ave NE and on 28th Ave NE in front of Lake City Library
Street Fair featuring food, arts and crafts, pony rides, gymnastics, vintage car show, live entertainment, and parades.
---
Pista Sa Nayon
July 29
Seward Park Amphitheater, 5898 Lake Washington Blvd. S
Pista Sa Nayon showcases the very best of being Filipino and offers activities for all ages. Food, arts and crafts, live entertainment, basketball tournament and children's games.
---
Umoja Fest African Heritage
Aug.
Judkins Park, 2150 S Norman St.
This festival features a parade, Hip-Hop Music Fest, live music, fashion expo, community speakers, and over 50 vendors.
---
Anacortes Arts Festival
Aug. 2 - 4
www.anacortesartsfestival.com
Juried artisans booths, culinary art, fine art exhibits, food, and lots of youth activities.
---
Brasilfest
Aug. 18
Seattle Center
Celebration of Brazilian culture featuring music, arts and crafts, food, dance and more.
---
South Lake Union Block Party
South Lake Union Discovery Center, 101 Westlake Ave N
www.slublockparty.com
Local music, kids activities, beer and wine garden, food from local eateries and more.
Back to Top of Seattle Festivals and Fairs
---
City of Enumclaw and King County Fair
Enumclaw Expo Center
45224 284th Ave SE
www.thekingcountyfair.com
Entertainment, carnival, kids activities, 4-H and FFH animal exhibits, chili cook-off, car show, food and more.
---
A Taste of Edmonds
Aug.
$3
Civic Playfield, 310 Sixth Ave N, Edmonds
Food booths, entertainment, kids activities, arts and crafts.
---
Auburn Days Festival
Aug.
East Main Street and Auburn Way
Car show, entertainment, and food.
---
Northwest Latitudes and Attitudes Cruiser Party
Cap Sante Boat Haven, 1019 Q Avenue, Anacortes
Live entertainment, kids activities, food, and an appearance by the Seafair pirates.
---
The Festival at Mt. Si
Aug. 9 - 11
At the base of Mt. Si in North Bend
Arts and crafts, food, beer garden, live music, chili cookoff, cherry pie eating contest, blueberry dessert contest, Kids Zone, Grand Parade, and fireworks display.
Back to Top of Seattle Festivals and Fairs
---
Creation Festival Northwest
August 7 - 10
Enumclaw Expo Center, 45224 284th Ave SE, Enumclaw
www.creationfest.com/nw/
Christian music festival with live music, kids activities, worship tent and more.
---
Kitsap Wine Festival
Aug. 17, 2pm-5:30pm
$45-$50
Harborside Foundation Park, Bremerton waterfront (via ferry from Seattle)
www.kitsapwinefestival.com
---
Coupeville Arts and Crafts Festival
Aug.
Coupeville, Penn Cove, Whidbey Island
One of the state's oldest continuously run festivals, this one focuses on quality arts and crafts handmade by artisans from the Pacific Northwest and beyond. There will also be live stage entertainment, an art gallery wine reception, and children's activities all against the backdrop of Coupeville's waterfront views.
---
Washington State International Kite Festival
Third week of August
Long Beach, Pacific County
www.kitefestival.com
One of the world's largest kite festival takes place here on the sand at Long Beach. Worth the drive down!
---
San Juan County Fair
Aug. 14 - 17, 10am-9pm
$8-$15
San Juan County Fairgrounds
846 Argyle Ave, Friday Harbor
www.sjcfair.org
Carnival, animals, music, food, art and more.
Back to Top of Seattle Festivals and Fairs
---
Central Area Community Festival
Aug.
2323 E Cherry St.
Live music, food, art and cultural events, games, crafts, entertainment, and more.
---
Fresh Paint - Festival of Artists at Work
Aug. 17 - 18, 10am-5pm
Everett Marina
Artists will turn the Everett Marina into a huge outdoor studio and sidewalk gallery where you can ask anything you want about art and making art, and watch the artists create their work. Other activities include Float Find, Hot Shop (glass blowing), Art Cars, kids art activities, face painting, Interactive History Company, Create-a-Kite, music, and food vendors.
---
Tomatofare
Cedarbrook Lodge, 18525 36th S
website
Tomato tasting, wine tasting, live music, and top chefs preparing tomato recipes.
---
GirlFest
Qwest Field Event Center
800 Occidental Ave S
Sports, rock climbing, crafts and more for girls and their families.
---
Tibet Fest
Aug. 24 - 25
Seattle Center House, Fisher Pavilion
Traditional performances with modern song and music, symbolic masks, arts and crafts, children's activities, traditional food.
---
---
Evergreen State Fair
Aug. 22 - Sept. 2
Evergreen State Fairgrounds
14405 179th Ave SE, Monroe
www.evergreenfair.org
One of Western Washington's biggest fairs featuring entertainment, draft-horse shows, carnival rides, food, and more.
Back to Top of Seattle Festivals and Fairs
Seattle Festivals in September
Bumbershoot
Aug. 31 - Sept. 2, 11am-11pm
One-day pass; Three-day pass; Ages 10 and under free
Seattle Center
www.bumbershoot.org
Bumbershoot is North America's largest urban arts festival featuring music, film, comedy, dance, theatre, performance and visual arts for three days over Labor Day weekend at Seattle Center. One ticket gets you onto the Festival grounds each day, and there's plenty to eat, see, and do all weekend.
---
Bremerton Blackberry Festival
Aug. 31 - Sept. 2
Bremerton Waterfront Boardwalk
Second Street and Washington Avenue, Bremerton
www.blackberryfestival.org
Food, blackberries, fun run, entertainment, bike ride, fly-in and more.
---
Labor Day Celebration
Sept. 2, 10am-3pm
Free
Lower Woodland Park, N 50th Street and Woodland Park Avenue N
Live music and food to celebrate Labor Day next to the zoo.
---
Mukilteo Lighthouse Festival
Sept. 6 - 8
Mukilteo Lighthouse Park, 609 Front St, and Rosehill Community Center, 304 Lincoln Ave, Mukilteo
www.mukilteolighthousefestival.com
Art, parades, entertainment and food.
---
Puget Sound Bird Fest
Various locations near downtown Edmonds
www.pugetsoundbirdfest.com
Guided walks, exhibits, vendors, kids activities and more in celebration of birds and nature.
---
Washington State Fair (Puyallup Fair)
Sept. 6 - 22
$9-$11, Special deals on certain days
10am-10pm Sundays-Thursdays
10am-11pm Fridays and Saturdays
Puyallup Fair and Events Center
110 Ninth Ave SW, Puyallup
www.thefair.com
This is Washington's biggest country fair, featuring carnival rides, concerts, 4-H animals, quilt exhibits, art exhibits, rodeo, food and lots more. Puyallup is pronounced "pew all up" for those of you who were wondering! The concert lineup is usually very good, and the show goes on rain or shine.
Back to Top of Seattle Festivals and Fairs
---
Northgate Festival
Thorton Place Plaza
103rd Street and Fifth Avenu NE
Health and fitness fair, live entertainment, kids activities, classic car show, arts vendors, food and more.
---
Live Aloha Hawaiian Cultural Festival
Sept. 8, 11am-7pm
Free
Seattle Center House and Mural Amphitheatre, Seattle Center
Hula and Mele (song) performances, films, historical exhibits, food, keiki activities, and traditional Hawaiian arts and crafts.
---
Fremont Oktoberfest
Sept.
$15-$25
North Canal Street between Phinney Avenue N and First Avenue NW
www.fremontoktoberfest.com
Brew HA-HA 5K, Street Scramble, beer gardens, comedy show, Dog Day Afternoon, live entertainment, kids' area, Texas Chainsaw Pumpkin Carving, and more.
---
Fisherman's Fall Festival
Fisherman's Terminal, 3919 18th Ave S
Celebrating local fishing fleets.
Seattle Festivals in October
Oktoberfest Northwest
Oct. 4 - 6
Washington Fair and Events Center, Puyallup
Serving up beer, brats, authentic entertainment, and a family zone including arts and crafts, root beer garden, and kids activities.
Back to Top of Seattle Festivals and Fairs
---
Other Events and Things to Do: